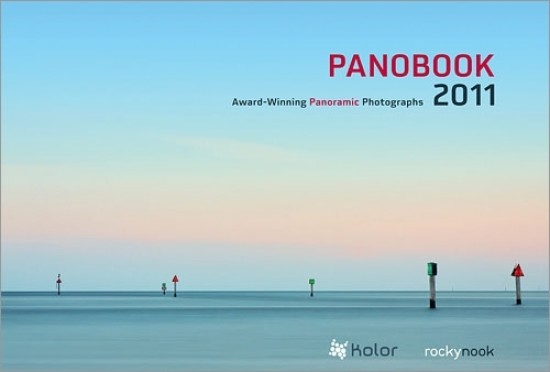 Rocky Nook's latest title, Panobook 2011, is now available in the UK. Filled with 156 high-quality panoramic photographs from Kolor's 2011 Panoramic Photography Competition, Panobook 2011 is a beautiful, 224-page hardback that opens to 24 inches across two pages. "This collection of images provides an introduction to the best of today's panoramic photography and serves as inspiration for the interested photographer," the publisher says. "Laymen and photographers alike are certain to be delighted as they embark on a tour of the world."
Press Release
Panobook 2011—New from Rocky Nook
Farnham, UK—One contest, 553 participants, 2000 submissions, 40 countries, and 3 jurors… The summation of which is this volume, filled with 156 winning panoramic photographs. Following on the success of the first two annual editions, Panobook 2011 (Rocky Nook) submerges us once again in a sea of all new, beautiful panoramas.
Filled with a stunning array of images by both amateur and professional photographers, this beautiful, hardcover book opens to 24 inches across two pages, allowing the reader to fully appreciate these expanded views and unique perspectives.
This collection of images provides an introduction to the best of today's panoramic photography and serves as inspiration for the interested photographer. Laymen and photographers alike are certain to be delighted as they embark on a tour of the world.
About the Author
Kolor, the developer of Autopano and Panotour software, offers the world's leading solutions for panoramic imaging, image stitching, and virtual tours. Located in the Savoie region of France and founded in 2004, it wasn't long before Kolor became recognized for their innovation, technological advances, and commitment to the community. This is the third consecutive panoramic image contest that Kolor has hosted.
Your Comments