Pentax K-Mount Lens Roadmap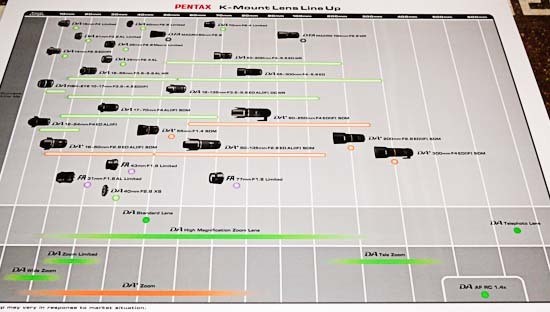 As well as unveiling the new K-01 compact system camera and new 40mm pancake F2.8 lens, Pentax have also unveiled their K-Mount lens roadmap for 2012 and 2013.
Shown at today's UK K-01 press launch, the roadmap predicts that 3 new lenses will be released in 2012 - a DA Standard lens, DA High Magnification Zoom lens, and a DA Telephoto lens.
In 2013 4 new lenses will make an appearance - the DA Zoom Limited, DA Tele Zoom, DA Wide Zoom and DA Zoom, with a new DA AF RC 1.4x teleconvertor too.
A Pentax UK spokesperson was keen to point out this roadmap is subject to change.
The Pentax K-Mount current line-up and lens roadmap for 2012 / 2013.
Image Gallery
Click on a thumbnail to see the full version.
Your Comments