Pentax PMA 2008 Booth Tour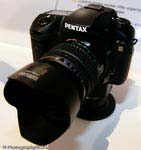 The Pentax K20D and K200D DSLRs are on show at PMA - the 14 megapixel K20D puts Pentax right in the mix in the competitive mid-range DSLR market. Completing Pentax's Spring line-up are some new lenses and 4 new compact cameras.
Website: Pentax PMA 2008 Booth Tour
We also have a selection of 40 photos taken with a pre-production version of the new Pentax K20D DSLR camera and new smc PENTAX-DA 18-55mm F3.5-5.6 AL II zoom lens.
Website: Pentax K20D Photos
Share this article