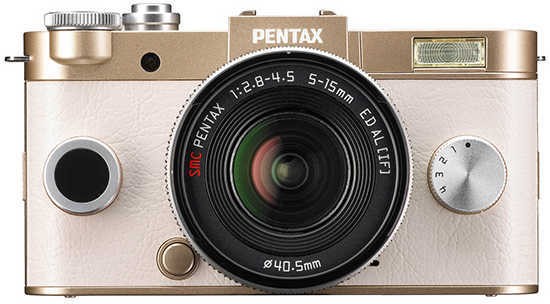 The Pentax Q-S1 is a new compact system camera with a 1/1.7-inch, back-illuminated CMOS image sensor. Key highlights include a maximum sensitivity setting of ISO 12,800, a dust removal system,  Full HD movie recording, compatibility with Eye-Fi wireless LAN SD memory cards and a range of creative tools to create uniquely personalised images and add filter effects with just a turn of a dial. The Pentax Q-S1 will be available in early September for £299.99 (body-only) in a choice of 40 colour combinations. A single-zoom kit including the Q-S1 camera and 5-15mm lens will be available for £379.99/$499.95, and a double-zoom kit comprising the camera, 5-15mm and 15-45mm lenses will also be on offer, priced at £549.99.
Ricoh Press Release
Introducing the PENTAX Q-S1: the perfect everyday choice for photographers of all levels, available in 40 colour combinations
Looking for a beautifully designed, super-compact camera with interchangeable lenses?  Then look no further – as RICOH IMAGING COMPANY UK today announces the launch of the PENTAX Q-S1 interchangeablelens digital camera! Ideal for everyday use, this camera is perfect for photographers of all levels, and is just the right size to take with you everywhere you go.
The latest addition to the popular PENTAX Q series, this fashionable little number comes in a choice of 40 colour combinations to match your individual style.  It's smaller than traditional digital SLRs, but don't be fooled by its size… the Q-S1 comes full of shooting features, to add something extra to your photography – making it even more fun to use!
Key features:
·         A 1/1.7-inch, back-illuminated CMOS image sensor to deliver high-quality images
·         High-sensitivity shooting up to ISO 12800
·         A range of creative tools to create uniquely personalised images and add filter effects with just a turn of a dial
·         Unique PENTAX built-in Reliable shake- reduction system for sharp, blur-free images
·         Dust removal system prevents dust spots spoiling images
·         Large 3.0 inch LCD monitor
·         21 Scene modes including Night Scene Portrait, Pet and Backlight Silhouette
·         Full HD movie recording, even during high-sensitivity shooting
·         40 colour combinations, with a choice of five body colours and eight grip colours
o    Body colours:  Black, Gunmetal, Pure White, Champagne Gold, Bright Silver
o    Grip colours:  Charcoal Black, Cream, Carmine Red, Canary Yellow, Khaki Green, Royal Blue, Burgundy, Pale Pink
Other features
Compatibility with Eye-Fi wireless LAN SD memory cards
High-speed continuous shooting of up to five images per second
HDR mode to composite three images of varying exposures into one photo with extra-wide dynamic range
Remote control receptors on front and back panels
RRP:
Q-S1 Body only: £299.99
QS-1 + 5-15mm: £379.99
Q-S1 + 5-15mm + 15-45mm: £549.99
Availability: Early September 2014
Your Comments