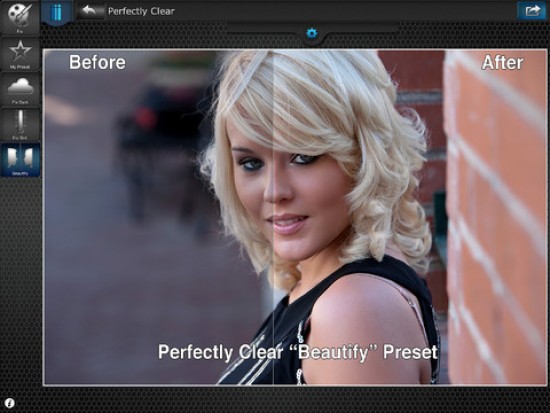 Athentech has released Version 3.0 of its Perfectly Clear app for Apple's iPhone and iPad devices. This update introduces a completely redesigned interface, integrated noise removal, new Beautify filer and a one-click fix for the "purple haze issue" - essentially a particularly bad case of lens flare - that occurs when the iPhone camera is pointed toward the sun or some other bright source of light. Perfectly Clear 3.0 for iPhone and iPad is available on iTunes for $2.99.
Athentech Press Release
Athentech announces Perfectly Clear® v3.0 for iPhone & iPad
Leader in Intelligent Image Correction updates popular iOS Apps
CALGARY, (November 5, 2012) ––Athentech Imaging, the leader in Intelligent Image Correction, is very excited to announce version 3 of its Perfectly Clear® iPhone and iPad apps: www.athentech.com/iphone-ipad.html. This new version is packed full of new features, unique breakthrough technology, and an unsurpassed user experience. All this for just $2.99 in the App Store! V3.0 is a Universal App: now you can have the same powerful experience on your iPhone and iPad
• Completely redesigned interface: Even more intuitive and fun to use than previous versions
• De-purple correction: This fixes the phenomenon on iPhone 5 and 4 devices that occurs when the camera is pointed towards the sun or other bright light sources that results in an extremely purple image – one click and Perfectly Clear® makes a previously unusable photo awesome! (patent pending)
• Powerful Noise Removal: noise removal is now included in the purchase price of the app, no longer must you make a separate in-app purchase
• Beautify: Automatically applies breakthrough, patented technology to render flawless skin, sparkling eyes, and whiter teeth
Perfectly Clear® V3 features four presets:
• Fix - the default preset, perfect for most situations
• Fix Dark - quickly fixes dark or poorly exposed images taken with bright backgrounds
• Fix Tint - see the true colors shine through when you get rid of that unwanted tint
• Beautify - smooth skin, corrects skin tone, brightens and enlarges eyes and whitens teeth In total there are 12 patented corrections that are applied automatically and can be adjusted as needed: Perfect Exposure, Depth/Contrast, Color Vibrancy, Sharpening, Tint Removal, Noise Removal, Skin Tone, Perfectly Smooth, Eye Enhance, Eye Enlarge, Teeth Whitening, and De-Purple.
Once corrections are applied to your photo, you can save the new image to your iOS device, quickly post it on Facebook and Twitter, or email it.
About Perfectly Clear®
Perfectly Clear® is Intelligent Image Correction, licensed by companies around the world and loved by more than 7 million mobile device users who currently almost instantaneously correct more than 20 million images every day. It's available as an Android and iOS mobile app and also available as a Photoshop or Lightroom Plug-in. For more information, visit http://www.athentech.com.
Your Comments