Photo Exhibitions 5th-11th February 2007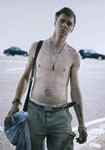 Greer McNally round-ups the latest photography shows that are well worth some of your hard-earned money and time.
Last chance to see…
Photography Prize at the National Portrait Gallery - Until 18th February
Now in its fourth year under the Schweppes banner, the 2007 exhibition showcases the work of 58 international photographers, chosen from 5065 submissions. The competition is known for recognising emerging talent as well as rewarding those already working in a professional capacity. This year's winner Richard Boll won the Audi/Next Level Award for contemporary photography in 2004.
National Portrait Gallery, London
http://www.npg.org.uk
Picture Copyright: Richard Boll
Just opened…
Rowan Williams, the Archbishop of Canterbury in the 14th century Guard Room at Lambeth Palace under the watchful eyes of his 17th century predecessors.
Faith and Church: Portraits – Until 7 May
For this new commission, iconic photographer Don McCullin has turned his lens on ten of the leading religious figures in the country. Each subject was invited to choose an environment that reflects their spiritual life. McCullin hopes these portraits will be "representative of humanity, strong enough to bring us together in a peaceful and harmonious way, so that we can lead ourselves out of the warring, pain and suffering. We must have mediation, especially now, and these ten people are so vitally important to that process."
The photographer will be discussing his work at 7pm on Thursday April 19 2007. Tickets: £5/£3; available in person at the Gallery or by calling 020 7306 0055.
National Portrait Gallery, London
http://www.npg.org.uk
Picture Copyright: Don McCullin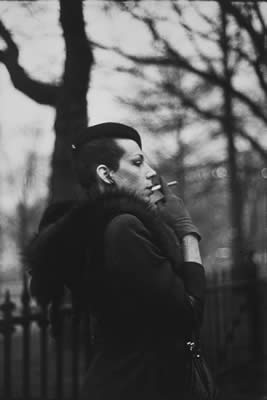 Nan Goldin recalls, "I first saw them—Ivy and Naomi and Colette—crossing the bridge near Morgan Memorial Thriftshop in downtown Boston. They were the most gorgeous creatures I'd ever seen. I was immediately infatuated…. They became my whole world."
Nan Goldin: 1972-74 and The Other Side - 09 February - 14 April 2007
A rare chance to see Goldin's emerging style as a young photographer, while she was heavily influenced by the work of Lisette Model and Larry Clark. The exhibition comprises of forty black and white shots taken between 1972 and 1974, as well as the slide show The Other Side. The subject matter for both is the chronicling of the lives of a group of Boston drag queens the photographer befriended.
Matthew Marks Gallery, New York
http://www.matthewmarks.com
Picture Copyright: Nan Goldin
Book Now…
Philippe Chancel talks about DPRK - 20 February 7pm
The Deutsche Börse nominee discusses his North Korean portfolio in the run up to the announcement of this year's winner at the Photographers' Gallery. Originally shown at Arles in the summer, the images, all shot in colour, cast an objective eye over a country straining under the weight its own self-importance.
Photographers Gallery, London
http://www.photonet.org.uk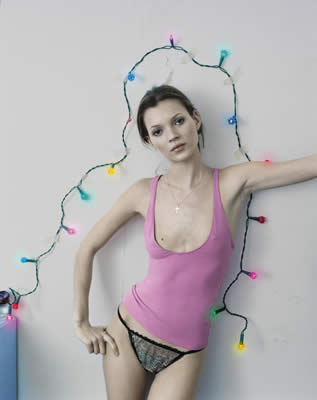 One of the portraits by Corinne Day that would establish Kate Moss as a powerful model and also embody the style of grunge fashion photography.
Face of Fashion - 15th February to 28 May
Five of the world's most influential fashion photographers - Mert Alas & Marcus Piggott, Steven Klein, Mario Sorrenti, Paolo Roversi and Corinne Day - unite in this exhibit to coincide with London Fashion Week.. Each approaches their subject in a different way, from Mert and Marcus' anxious glamour to Paolo Reversi delicate use of light, but all acknowledge the powerful position that fashion photography plays in today's society.
National Portrait Gallery, London
http://www.npg.org.uk
Picture Copyright: Corinne Day
Short Run…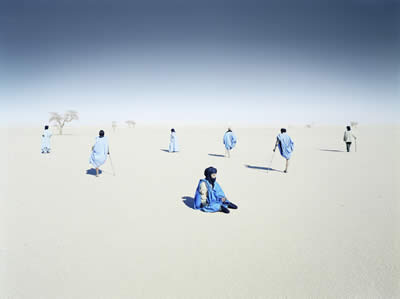 Saharawi people missing limbs due to landmines. Western Sahara.
SANDBLAST: Vision from the last colony in Africa - 1 February to 17 February
Host Gallery exhibits an intimate look at the unknown lives of the Saharawi people. In a barren corner of the Algerian Sahara, close to 200,000 Saharawi live as refugees, while their country of Western Sahara remains the last colony in Africa. Four recent bodies of work reflect the internal reality for the people who live there and the external view to a largely oblivious world.
There is a related film screening on 13 February, 7pm: Western Sahara: a Forgotten War (1998) A BBC2 Correspondent film. Q&A with Tim Braunholtz from Western Sahara Campaign.
Host Gallery, London
http://www.hostgallery.co.uk
Picture Copyright: Simon Thorpe
Share this article