Photo Iconic Photography Courses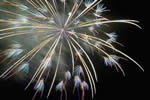 Photo Iconic have unveiled their new photography courses for autumn 2008, which includes a course on shooting fireworks. Tuition is by award-winning photographers Chris Coe and Nick Meers, with digital imaging expertise provided by Photoshop guru Terry Steeley. Photo Iconic's one, two and three-day photography courses start from £145.
Photo Iconic Press Release
Fireworks, digital imaging and critiques
With the Autumn 2008 courses from Photo Iconic, photographers can significantly improve their photography, and have fun while doing so. There are one, two and three-day courses covering everything from composition and digital imaging to low-light photography - even a location shoot at a fireworks display, so participants learn how to 'paint' with light. Tuition is by award-winning photographers Chris Coe and Nick Meers, with digital imaging expertise provided by Photoshop guru Terry Steeley.
Autumn Low Light & Fireworks
As the evenings start to get darker, low light presents some wonderful opportunities for unusual images. This two-day shoot-based course coincides with Bonfire Night celebrations, giving the opportunity to take low light photography to the extreme by photographing fireworks. The course is based in Suffolk, and, as well as the firework display, will take in autumn rural landscapes and charming small coastal towns. November 8/9, £425.
The Wow Factor
Composition and learning to see images are the key to great photography. For some it's instinctive, but most photographers must learn how to compose an image so that it has impact, so it has that wow factor. These one-day classroom-based courses will be held at Stockley Park near Heathrow Airport, so are very convenient for anyone living in London. Participants will learn what makes a strong composition and why other compositions fail, and how the end use of an image can have a key role in determining how an image is composed. They'll also learn how to find stronger images in their own photographs, through group critique sessions. November 6 and November 7, £145.
Shoot, Edit, Print
This intensive three-day course is for anyone who wants to improve their photography and/or their digital imaging skills. Based in Banbury, it will provide an interactive hands-on training in photography, editing and image manipulation and mixes shoot-based tuition with classroom learning. Chris Coe and Terry Steeley will cover the whole process, from preparing to shoot to outputting images. October 11/12/15, £595.
Christmas is coming….
Photo Iconic will shortly be launching a December one-day low-light in the city workshop. Based at Intrepid Travel's Islington store, this will include a location shoot to capture some of the Christmas lights in London.
For further information on any of these courses, please visit http://www.photoiconic.com or call 01728 669185 or email courses@photoiconic.com.