PhotographyBB Online Magazine 8th Edition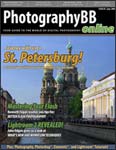 The eighth edition of the PhotographyBB Online Magazine has just been released. Issue 8 includes tips and techniques for using camera flash, conclusion of the four-part series on HDR photography, workflow techniques for Lightroom 2, and a tour of St. Petersburg. PhotographyBB Online Magazine is available for free download in either PDF or ZIP formats.
PhotographyBB Press Release
PhotographyBB Releases Issue #8 of our Free PDF Magazine Press Release:
VANCOUVER, CANADA, SEPTEMBER 12th, 2008 - PhotographyBB announced today, the release of the eighth edition of the PhotographyBB Online Magazine. The PhotographyBB Online Magazine is quickly becoming a leading resource in the future of free information distribution, offering our readers: Digital Photography tips and techniques, DSLR camera function training, and tutorials for all of the major post processing software suites such as Adobe® Photoshop™, Photoshop Lightroom™, and Photoshop Elements™
Editor in Chief, Dave Seeram had these comments regarding this recent release:
"We have a fantastic issue this month as we dive into the theme of digital photography and camera flash. This month we are taking the readers through some tips and techniques for using camera flash, as well as some tutorials on correcting flash related problems in our images. We are also concluding our four-part series on HDR photography with some post-processing tips and a video tutorial, along with a discount for any readers wishing to purchase the popular HDR software - Photomatix Pro.
Additionally, this month takes up to St. Petersburg where we have a stunning look at the beauty of this historic city. For those of you using Adobe Photoshop Lightroom, we have a fantastic article which dives into the new Lightroom 2, tethered shooting, and workflow techniques. Many thanks to the readers for coming back each month, and my hat goes off to all of our contributing writers for their quality contributions to the PhotographyBB digital photography community."
By way of download in either PDF or ZIP formats, PhotographyBB continues its trend through the future of free downloadable magazine distribution. In a completely ad-free format, each issue contains informative and educational tutorials for amateur and intermediate level photographers.
In addition to articles which aide beginners in getting the most from their DSLR cameras, the PhotographyBB Online Magazine also features useful and applicable tutorials on how to use post-processing tools such as Photoshop, Elements, and more, to build on digital photography post-processing skills.
PhotographyBB Online Magazine is available for free download through the PhotographyBB Website at: http://www.photographyBB.com/magazine
PhotographyBB was founded in Oct, 2006, and is a division of PowerButton Central (2004). For more information, visit the PhotographyBB website at: http://www.photographybb.com or by email at: magazine@photographybb.com
Your Comments