PhotographyBLOG Portfolios: Jernej Burkeljca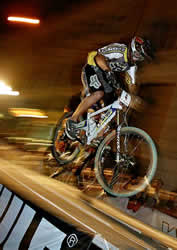 The third PhotographyBLOG Portfolio has been submitted by Jernej Burkeljca.
"Over the past few years there has been an increase in popularity of urban mountain bike racing in Slovenian cities. Bikers and organisers drew inspiration from their dual, downhill and 4X racing experience and came up with the BikeFight. A race against time or between two riders over various man made obstacles, from ladders to big jumps with some destroyed bike parts and injuries to make it all worthwhile.
The primary reason in the beginning was probably just to provide a novelty for the riders, keep the scene alive and have some fun in the process. In addition to that it helps promote mountain biking to the general public who are reluctant to climb uphill for a DH race where they only see riders for a fraction of a second. Urban races are set up in a way that you are able to see the majority of the course from any position and it usually works. Great music, lots of fun, plenty of action and many fans on the sidelines keep everything going on hard."
Website: Portfolios: Jernej Burkeljca
Share this article