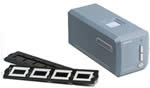 Plustek Press Release
Plustek, a leading manufacturer of sheet-fed and multi-function scanners, today announces that the OpticFilm 7200i will now be sold in selected Jessops stores as well as in the Jessops' catalogue and online at www.jessops.com. Shooping Lin, sales director at Plustek, said: "Plustek is one of the world's leading scanner manufacturers and one of our key objectives is to target the UK photography market. The appointment of a strong vendor such as Jessops will help us to raise our profile in this market and make our products readily available to target consumers."
Carl Smith, printer/scanner product manager at Jessops, commented: 'The Plustek film scanner fits in well with our product range. We recognise that many of our customers still own film negatives and would like to convert them into digital files. By using the OpticFilm 7200i they will be able to achieve this easily and effectively."
The OpticFilm 7200i is available now.
OpticFilm 7200i – targeted at consumers who want to update their film to a digital format, the OpticFilm 7200 is a film scanner capable of scanning 35mm slides and negatives. It includes iSRD, (Infrared Smart Removal of Defect), for eliminating defects, high optical 7200dpi resolution, USB 2.0 connection and fast scan speed. Plustek's OpticFilm 7200 easily outperforms other professional film scanners and is priced at £149.99 including VAT.
For further information, visit www.plustek.com.