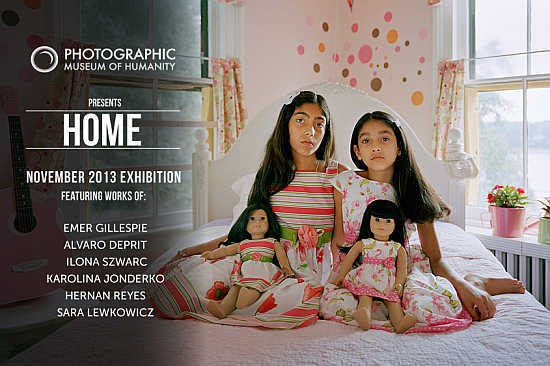 The Photographic Museum of Humanity (PMH) today launched its tenth curated online exhibition. Entitled Home, the exhibition features the work of outstanding photographers of PMH's online community such as Sara Lewkowicz, Ilona Szwarc, Emer Gillespie and Alvaro Deprit, among others. You can view the exhibited images in five galleries until 1 December 2013 at the website below.
Website: PMH
PMH Press Release
Photographic Museum of Humanity is glad to present Home, its latest curated online exhibition. The five galleries feature the work of outstanding photographers of PMH online community such as Sara Lewkowicz, Ilona Szwarc, Emer Gillespie and Alvaro Deprit, among others.

Home. Home is where real life happens. Home is the place where we spend more time
Home is a hidden place for strangers. Home is the place where we feel safe. Home is where intimacy develops. Home is the place that we can not see from outside: we have to be inside to see what is happening. Photographers have been wondering whether all these statements are true: many times, the images corroborate them, but sometimes the concept varies and Home is no longer a place where we feel safe. During the last few decades, it is getting more common amongst photographers to look at what happens within the confines of a house.

The result is a very wide range of intimate images from different parts of the world. All those images have been the inspiration for this round of exhibitions. Each photographer approaches the idea of Home with his/her own style, bringing to light stories, people and occurrences that only happen at home.

HOME EXHIBITION PROGRAM
ONLINE NOVEMBER 4TH - DECEMBER 1ST - 2013 | WWW.PHOTOGRAPHICMUSEUM/MUSEUM/HOME

GALLERY I: "PICTURE YOU, PICTURE ME" BY EMER GILLESPIE
A mother photographing her daughter. A daughter photographing her mother. A delicate photographic investigation, depicting a strong relationship between a mother and her daughter inside their home and daily life.

GALLERY II: "SUSPENSION" BY ALVARO DEPRIT
What does it mean the idea of Home for migrants? This question is present through this story about young migrants in Italy. Spanish photographer Alvaro Derpit has been living and witnessing moments with them, capturing their intimacy in their new homes
.
GALLERY III: "AMERICAN GIRLS" BY ILONA SZWARC
There are many ways a little girl starts to create her own identity. Polish photographer Ilona Szwarc has been exploring one of the possible ways: the dolls. Her project American Girls presents these girls with their dolls in intimate portraits that talk in a subtle way about American society. This work received a Honourable Mention in PMH 2013 Grant.

GALLERY IV: "SANCTUARIES" BY KAROLINA JONDERKO & HERNAN REYES
Empty spaces filled with things that talk about people, evoking their absence. A project on missing people in Poland is presented together with a series of empty beds in Argentina; the product of a visual connection between two Polish and Argentine photographers.

GALLERY V: "SHANE & MAGGIE" BY SARA LEWKOWICZ
An invisible eye in a violent relationship, young photographer Sara Lewcowicz brings to the light strong scenes from the intimacy of the house of a tormented couple and the violence against the woman, also witnessed by their little daughter. A side of Home that we are hardly able to see.
Your Comments