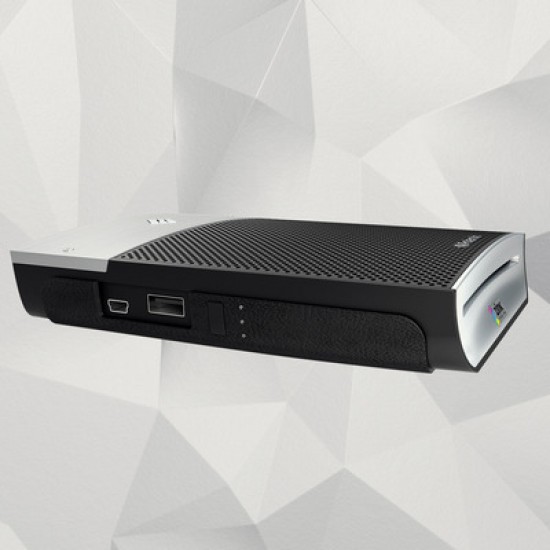 The Polaroid Grey Label GL10 instant mobile printer is now available. "Featuring a truly portable size, easy-to-use features and ZINK Zero Ink Technology, the Polaroid GL10 acts as a portable photo booth, giving new life to images stored on cell phones, hard drives and digital cameras through the Polaroid instant experience," the company says. The printer is capable of producing high-quality 3"x4" prints in about 45 seconds. Currently, the Polaroid Grey Label GL10 is available at Bloomingdale's, with USA-wide availability slated for mid June. The suggested retail price of the printer is $169.99, while a pack of thirty sheets of ZINK GL10 photo paper is available for $19.99.
Website: Polaroid
Polaroid Press Release
POLAROID GREY LABEL GL10 INSTANT MOBILE PRINTER IN STORES NOW
Available at Bloomingdale's starting May 26, the Polaroid GL10 Frees the Millions of Digital Images Trapped on Cell Phones, Hard Drives and Digital Cameras with the Polaroid Instant Printing Experience
NEW YORK, NY May 26, 2011 - Polaroid today announced that the GL10 Instant Mobile Printer, the first product in Polaroid and Lady Gaga's new Polaroid Grey Label line, will be available for consumer purchase starting today, May 26, 2011. Featuring a truly portable size, easy-to-use features and ZINK® Zero Ink® Technology, the Polaroid GL10 acts as a portable photo booth, giving new life to images stored on cell phones, hard drives and digital cameras through the Polaroid instant experience.
Designed by Polaroid and Lady Gaga, the GL10 Instant Mobile Printer is now available at the Bloomingdale's 59th st. flagship in New York City and will roll out to select Bloomingdale's nationwide in late June. Pre-orders for the GL10 are also currently available at Polaroid.com and will be available on hsn.com starting May 27, 2011.
Bloomingdale's 59th st. is commemorating the Polaroid Grey Label retail debut with an interactive Polaroid storefront window display. Designed by Polaroid and the Haus of Gaga with dazzling accents of SWAROVSKI ELEMENTS, fans of instant photography, fashion and the unexpected are invited to visit Bloomingdale's to become part of the exhibit.
Running from May 26 through June 6, 2011 in the Bloomingdale's windows facing Lexington Avenue, Polaroid and the Haus of Gaga welcome New York City to watch their creativity instantly develop on the GL10.
"Everyday, digital photos capture, memorialize and shape our lives - but they are not given the chance to inspire us because they die on cell phones or digital cameras," said Lady Gaga, Polaroid's Creative Director. "I created the GL10 because everyone loves to take photos with their mobile phones - and the next evolution is to combine digital images with instant photography, bringing photos to life in vibrant colors that you can share, from the palm of your hand."
The 15-ounce GL10 produces Polaroid Classic Border and full bleed 3x4'' photos in less than one minute. Fusing the instant accessibility of today's digital images with the original Polaroid instant experience and ZINK's second-generation thermal technology, the GL10 delivers photo-lab quality prints that emerge fully developed and protected by a smudge-proof, water-resistant coating.
In addition to Bloomingdale's, the GL10 will be available to consumers nationwide on June 17, 2011 on HSN. Tech expert and Polaroid spokesperson Katie Linendoll will showcase the product on-air, demonstrating the next generation of the Polaroid instant experience. Costco.com will carry the GL10 starting on June 20, 2011.
"For more than 74 years, Polaroid photos have intrinsically carried personal meaning, unique to each person who views them, and now the GL10 fuses this experience with today's digital photos," said Scott W. Hardy, President, Polaroid. "As we launch the first Polaroid Grey Label product at retail, old and new fans of Polaroid can experience seeing their photos of today in a way that only Polaroid can deliver, with the instant printing experience."
The GL10 Instant Mobile Printer will be available in the US for $169.99 (MSRP). Thirty sheets of ZINK GL10 photo paper will retail in the US for $19.99 (MSRP). Polaroid is also introducing an exclusive and free Android app for fun, fast editing as well as adding borders and special Polaroid filters to enhance pictures prior to printing. Download the Polaroid Android app at the Android Market.
About Polaroid
Across several generations, people regard Polaroid as one of the most trusted, well-respected and recognizable brands when it comes to instant photography. The Polaroid brand has been around for more than 70 years starting with polarized sunglasses which then evolved into instant film, camera and camera accessories, marking the beginning of the well recognized Polaroid Classic Border Logo. In recent years, the Polaroid brand has expanded into flat panel televisions, portable DVD players, digital photo frames, digital HD camcorders, waterproof digital cameras and more. People can expect to see new Polaroid products that will deliver the fun, instant gratification and value for which the brand has long stood.
For more information, visit www.Polaroid.com.
Polaroid, Polaroid & Pixel, Polaroid Grey Label, and Polaroid Classic Border Logo are trademarks of PLR IP Holdings, LLC.
About ZINK Imaging
ZINK Imaging Inc., a privately held company, was founded to enable millions of customers to enjoy the magic of ZINK® Zero Ink® products. ZINK Imaging invented, manufactures, and is an OEM supplier of the ZINK Printing Technology and the award winning ZINK Paper® to partners that will bring ZINK?enabled products to market under their respective brands. ZINK Imaging's headquarters and research and development labs are in Massachusetts, with a state of the art manufacturing facility in Whitsett, North Carolina. For more information, please visit www.ZINK.com.
The ZINK® Technology and ZINK® trademarks are owned by ZINK Imaging, Inc.
About Bloomingdale's
Bloomingdale's is America's only nationwide, full-line, upscale department store and a division of Macy's, Inc. It was founded in 1872 and currently operates 41 Bloomingdale's stores and 4 Bloomingdale's, The Outlet Stores in New York, New Jersey, Massachusetts, Pennsylvania, Maryland, Virginia, Illinois, Minnesota, Georgia, Florida, Nevada, and California. In addition, Bloomingdale's has an international presence with a location in Dubai. Be sure to follow Bloomingdale's on Facebook or Twitter, and for more information, or to shop any time, visit www.bloomingdales.com.
About HSN
Headquartered in St. Petersburg, FL, HSN is a leading interactive multichannel retailer, offering a curated assortment of exclusive products and top brand names to its customers. HSN incorporates entertainment, inspiration, personalities and industry experts to provide an entirely unique shopping experience. At HSN, customers find exceptional selections in Health & Beauty (e.g. M. Asam, Carol's Daughter, Coty, Elizabeth Arden, Signature Club A, Andrew Lessman, Lancôme, My Life Mary J. Blige, Perlier, Serious Skin Care, Wei East, ybf Beauty); Jewelry (e.g. Heidi Daus, Iris Apfel, R.J. Graziano, Rarities: Fine Jewelry with Carol Brodie, Amedeo Scognamiglio, Tori Spelling); Home/Lifestyle (e.g. Jeffrey Banks, Nate Berkus, Bissell, Colin Cowie, Dyson, Easy Exotic by Padma Lakshmi, Todd English, Emeril Lagasse, Happy Chic by Jonathan Adler, Joy Mangano, MoMA Design Store, Wolfgang Puck); Fashion/Accessories (e.g. American Glamour Badgley Mischka, Joan Boyce, Curations with Stefani Greenfield, Libby Edelman, Sam Edelman, Chi by Carlos Falchi, Diane Gilman, IMAN Global Chic, "Timeless" by Naeem Khan, Twiggy LONDON Sharif, Serena Williams Signature Statement); and Electronics (e.g. Sony, Kodak, Acer, Olympus, GE, Panasonic).
A leader in transactional innovation, HSN is the only retailer offering live streaming video in HD on three screens: TV, online and mobile. HSN broadcasts live to 96 million households in the US in HD 24/7 and its website - hsn.com - is a top 10 most trafficked e-commerce site, featuring more than 16,000 product videos. Mobile applications include HSN apps for iPad, iPhone and Android. HSN, founded 34 years ago as the first shopping network, is an operating segment of HSN, Inc. (Nasdaq: HSNI).
Your Comments