Polaroid iM1030 / iM1232 / iS2433 / iD975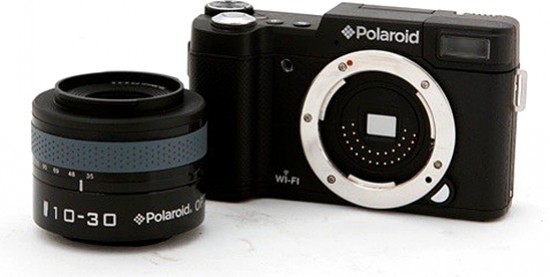 In addition to the Android-powered iM1836, Polaroid has announced two more CSCs, a bridge camera and a camcorder. The Polaroid iM1030 ($299) and Polaroid iM1232 ($349, pictured) are similar to the iM1836 in being interchangeable-lens models (which Polaroid confusingly refers to as "Micro Four Thirds bodies," even though their sensors are apparently smaller than a regular Four Thirds imager, and the cameras require an adapter to mount MFT lenses), but lack the Android OS that makes the iM1836 truly special. Nonetheless, the Polaroid iM1232 offers built-in Wi-Fi allowing users to instantly upload and share photos on their favourite social networks. Apart from these differences, the three models appear to be quite similar, featuring 18.1-megapixel sensors, 10-30mm kit lenses and 3.5" rear displays.
The company is also launching a bridge camera called Polaroid iS2433 ($199), featuring a 25-600mm equivalent superzoom lens and back-illuminated 16.1-megapixel Sony CMOS sensor; and a camcorder (Polaroid iD975, $249) with 10x optical zoom, capable of shooting Full HD video and 16-megapixel stills.
Polaroid Press Release
Polaroid Launches Three New High-Performance Still & Video Cameras
Posted: Jan 08, 2013
Las Vegas (January 8, 2013)—Polaroid today unveiled three new additions to its growing line of high-performance digital still and video cameras to make it fun, easy and affordable for everyone to capture professional-quality images and high-definition video of life's most precious memories. The products, offered by Sakar International, an authorized Polaroid licensee, are on display in the Polaroid Booth #13613 at the 2013 International Consumer Electronics Show, Jan. 8-11 at the Las Vegas Convention Center. The addition of these new models expands the line of Polaroid still and video cameras, ensuring there is the perfect camera for every consumer to capture every moment.
From interchangeable lens options and built-in Wi-Fi to instantly upload and share pictures over the web, the next-generation cameras combine the legendary Polaroid advanced imaging technology and fun, user-friendly features in small and ultra-portable, yet powerful devices.
"Different consumers want different feature sets from their digital still and video cameras these days," said Scott W. Hardy, President and CEO of Polaroid.  "Whether it's the flexibility and portability offered by a compact interchangeable lens camera or the image quality and ease of use offered by a fixed lens bridge camera, the right combination of features and benefits is different for every individual.  With the addition of these new models, we're ensuring that Polaroid has the right combination of features for virtually every consumer.  Of course ease of use, creativity, and fun are among the features included in every Polaroid product." 
"We're thrilled to continue our partnership with Polaroid and bring these world-class products to market," said Jeff Saka, president of Sakar International, an authorized Polaroid licensee and manufacturer of the new products. "As with all of our Polaroid products, these new cameras offer the same exceptional image quality and optics technology the brand is known for, with user-friendly features that make them perfect for easy use in any situation."
The new products include:
The Polaroid iM1030/iM1232 compact interchangeable lens camera features a 10mm-30mm lens in a compact Micro Four Thirds body that's compatible with a wide range of Micro Four Thirds lenses with available adapter. The vibrant 3.5" LCD display, HDMI output, HD video recording, 18.1 megapixel resolution, auto blink detection and panoramic photo capabilities make this compact camera perfect for every special moment at $299 MSRP. With optional built-in peer-to-peer Wi-Fi (model iM1232W for $349 MSRP), it's easy to connect to any network and instantly upload and share those great memories with friends via email or social networks.
The Polaroid iS2433 bridge camera is the ultimate in high-performance and affordable style. Featuring a 25mm wide-angle, 24x optical zoom and enhanced definition lens, the 16.1 megapixel Sony BSI CMOS sensor captures exceptional image quality. Easily capture the perfect shot with the iS2433's user-friendly 3" LCD display and auto blink detection plus panoramic photo capabilities built-in. And, why stick to just stills? This comfortable D-SLR body style camera also offers HD video recording, all priced at just $199 MSRP.
The Polaroid iD975 Video-in-Video camcorder lets you see yourself in the shot for a truly unique video capturing experience. The 16 megapixel, full 1080p HD video quality delivers stunning image quality while the 10x optical zoom lets you get in close on the action. The 3" gesture touch screen makes the iD975 a snap to use, so you'll always be ready to capture great footage. The Polaroid iD975 makes HD video affordable at just $249 MSRP.
To check out the latest-generation digital imaging Polaroid products by Sakar, visit Booth #13613 during the 2013 CES or visit www.polaroid.com.
About Sakar International
Sakar International, Inc. is a leading provider of consumer electronics and accessories. With a rich heritage of technology innovation since 1977, Sakar has developed a global presence by consistently evolving alongside technology to develop on-trend, cutting edge products. Sakar licenses over forty major entertainment brands and has maintained a diverse portfolio of product offerings, including: digital cameras, video recorders, karaoke machines and small appliances, along with audio, tablet, camera, smartphone and computer accessories. Sakar acquired the Vivitar brand in 2008 and has since launched a full line of photographic, optic and related accessories. Sakar is headquartered in Edison, New Jersey, with additional offices in the United Kingdom, Canada, Latin America, Hong Kong and China.
About The Polaroid Brand
Across several generations, people regard Polaroid as one of the most trusted, well-respected and recognizable brands when it comes to technology.  The history of Polaroid began 75 years ago, with its roots stemming back to Polaroid instant film, cameras and camera accessories – thus was the introduction of the famous Polaroid Classic Border Logo which is still recognized today as a true landmark of photography.
In recent years, Polaroid has expanded its range of products in consumer electronics and photography, such as instant and digital cameras, high-definition camcorders, mobile printers, tablets, flat-screen TVs and more. People can expect to see new Polaroid products that will deliver the fun, instant gratification and value that the brand has long stood. For more information, visit http://www.polaroid.com or http://www.polaroidstore.com.
Polaroid, Polaroid & Pixel, Polaroid Color Spectrum and Polaroid Classic Border Logo are trademarks of PLR IP Holdings, LLC.
Your Comments