Polaroid XS7, XS20 and XS100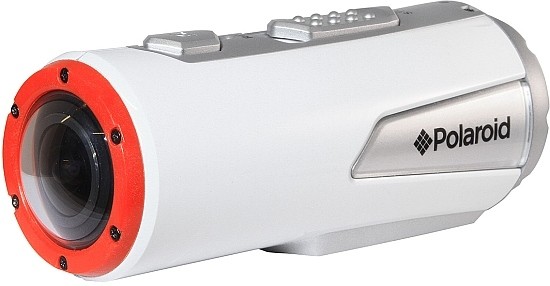 Polaroid has launched a new line of HD action cameras. The Polaroid XS7 comes with a 2" screen and a case that's waterproof down to a depth of 10 metres. The Polaroid XS20 features 8 built-in LED lights and waterproof to 20m. Finally, the range-topping Polaroid XS100 sports a shock-proof exterior, "distortion-free" ultra-wide lens, adjustable frame rates, dual file recording and waterproofing down to 10 metres. The first two cameras record video at 720p resolution, while the XS100 offers Full HD capture. The Polaroid XS sports cameras have suggested retail prices of $69.99, $99.99 and $199.99, respectively. Cameras are currently available for pre-order and will hit the shelves at Polaroid retailers in mid-October.
Polaroid Press Release
Polaroid Introduces Line of Hi-Definition Sports Video Cameras That Allow Users to Capture Life On-the Go
19.09.12, 08 Uhr
COLOGNE, GERMANY, September 18, 2012- Polaroid introduces a new line of hi-definition sports video cameras at Photokina, September 18-23 in Cologne, Germany. The newest additions to Polaroid's robust instant camera and camcorder offering, the Polaroid XS sports video cameras provide users with the ability to take videos and still images in a variety of sport settings. Waterproof technology, low-light capabilities and a sleek, lightweight form enable action enthusiasts to capture and share all of life's adventures. Additionally, video and images can be captured virtually anywhere thanks to a variety of mounts that come standard with each model.
"Polaroid's philosophy for the past 75 years has been about sharing life with fun and easy-to-use products," says Polaroid President Scott W. Hardy. "Our new line of hi-definition sports video cameras brings this idea to a new level. Whether you are downhill skiing or surfing at your favorite beach, the cameras offer the portability, durability and versatility needed to capture and share your most memorable moments."
Offered by C&A Licensing, Inc., an authorized Polaroid licensee, the Polaroid XS hi-definition sports video camera line features a number of versatile models. All models come equipped with bike and helmet mounts to help capture any type of action and media cables to easily share memories with friends and loved ones.
The Polaroid XS7 is designed for action. Features include:
* Professional CMOS sensor capable of capturing 720p HD video or 5MP still images.
* 2" full-color touch screen display for immediate playback of videos and images.
* Waterproof case, making the video camera waterproof for up to 10 meters.
The Polaroid XS20 is just the right camera to document your adventure on land or sea. Features include:
* Professional CMOS sensor capable of capturing 720p HD videos or 5MP still images.
* High capacity battery allowing users to shoot for up to three hours.
* Waterproof for up to 20 meters.
* 8 built-in LED lights for shooting in all environments.
* Motion detection sensors to initiate recording, which also allows the camera to also act as a security cam.
The Polaroid XS100 is ready for action with its easy-to-use single button record. Features include:
* Professional 5MP sensor, HD video in 720p, 960p and 1080p video and 3MP, 5MP and 16MP still images.
* Aerodynamic design, shock-proof exterior and distortion-free ultra wide lens, which provides 170° of coverage, helps ensure the highest-quality videos, even during extreme action.
* Adjustable frame rates like burst shooting mode, time lapse and fast and slow motion, allowing users to see their action in a new way.
* Auto rotation G-Sensor so the camera will always capture the best shot, no matter it's position.
* Waterproof for up to 10m and features professional low-light performance for shooting in all environments.
* Dual file recording with every HD video, creating an additional smaller file for easier uploading and sharing to social media sites.
The Polaroid XS hi-definition sports camera line has a suggested retail price of $69.99, $99.99 and $199.99. Cameras are currently available for pre-order via www.polaroid.com, and will be available at Polaroid retailers in mid-October.
The Polaroid Brand
Across several generations, people regard Polaroid as one of the most trusted, well-respected and recognizable brands when it comes to technology.  The history of Polaroid began 75 years ago, with its roots stemming back to Polaroid instant film, cameras and camera accessories - thus was the introduction of the famous Polaroid Classic Border Logo which is still recognized today as a true landmark of photography.
In recent years, Polaroid has expanded its range of products in consumer electronics and photography, such as 3D TVs, tablets, instant cameras and mobile printers, e-book readers, digital high-definition camcorders, waterproof digital cameras and more. People can expect to see new Polaroid products that will deliver the fun, instant gratification and value that the brand has long stood. For more information, visit http://www.polaroid.com.
Polaroid, Polaroid & Pixel, Polaroid Color Spectrum and Polaroid Classic Border Logo are trademarks of PLR IP Holdings, LLC.
About C&A Licensing, Inc.
C&A Marketing is a leading global distributor of digital cameras, camcorders, and related accessories in the consumer technology market. Headquartered in Ridgefield Park, N.J., C&A Marketing is the Polaroid Licensee for their accessories and instant digital camera line. As of November 1, C&A will operate the Ritzpix online imaging and printing service, the Ritzcamera.com website and at least 6 flagship photo retail shops across the US which were purchased from the bankruptcy auction of Ritz Camera in September 2012. With over two decades in business, the depth and breadth of their inventory is constantly expanding as is their presence and reputation in the consumer electronic marketplace.
Image Gallery
Click on a thumbnail to see the full version.
Your Comments