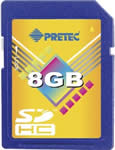 Pretec has released an 8GB SDHC card, the highest capacity SD card in the world. No word yet on price or availability.
Pretec Press Release
FREMONT, Calif.—(BUSINESS WIRE)—Aug. 31, 2006—Pretec, the world record keeper of highest capacity flash memory cards of CF card (12GB, March 2004), USB Flash Drive (8GB, January 2005), SD card (4GB, July 2005) and MMC (4GB, September 2005), has now released an 8GB SD card, the highest capacity SD card in the world. Pretec 8GB SDHC card is fully compliant with SD 2.0 (SDHC) specification with access speed up to 20MB/sec. The maximum capacity of SD card is 2GB under SD 1.1 of Secure Digital Alliance (SDA) specification; however, by using file format of FAT32, many SD 1.1 host devices can use 4GB SD card which Pretec pioneered since 2005.
SD 1.0/1.1 uses traditional "Byte Addressing" scheme which limits the maximum capacity to 4GB while SD 2.0 adopts "Sector Addressing" scheme which is the same with the technique applied by Mu-Card Alliance in 2004 to reach the maximum capacity of 2TB (2048GB). Pretec is one of the major founders and main contribution member of Mu-Card Alliance, who joined forces with MMCA in June 2005 (http://www.mmca.org/press/Mu_Card_Final.pdf). With capacities of 2GB, 4GB, and 8GB, Pretec 8GB SDHC is now available for key customer sampling at unit price $299. Mass production is scheduled by Q4/2006.
SDHC cards are recognized by new SDHC host devices differently than standard SD cards and are not backward compatible with legacy SD format host devices; in which, SDHC cards can only work with SDHC compatible host devices. Since Pretec is the 1st in the world to offer 4GB standard SD cards, and now also offers 4GB SDHC cards, Pretec will provide patent-pending SD-Tuner(TM) technology for customers to have an easy transition between the incompatibility of SD 1.1 and SD 2.0.
About Pretec
Pretec (http://www.pretec.com) offers a complete spectrum of small form factor memory cards and card readers such as CF, SD MMC, and USB Flash Drive for digital imaging, mobile communication, and industrial flash markets. As the 2nd company who was capable to offer CF card since 1995 in the world, Pretec has consistently demonstrated the pioneer engineering in highest capacity cards first available in the world: such as CF card 80MB, 128MB, 160MB, 320MB, 640MB, 1.5GB, 3GB, 6GB and 12GB CF card; the first 1GB and 4GB MMC card; the earliest to reveal the largest size 8GB USB Flash Drive; and now the highest capacity of SD card in 4GB and 8GB. With more than 100 patents granted or filed, Pretec has also been offering the highest speed cards in the world such as CF 80X (2004), MMC 4.0 150X (2004), USB 166X/266X (2005), SD 133X (2005), MMCplus(TM) 266X (2005), i-Disk Tiny ("Best Gear of 2003" by TIME Magazine), and smallest size USB Flash drive in the world such as i-Disk Diamond (also known as Cu-Flash) (2005).
For more product information, please visit http://www.pretec.com
.
—Note: i-Disk, i-Disk Tiny or Diamond, and SD-Tuner are trademarks of Pretec Electronics Corporation. All other trademarks mentioned herein are recognized as the property of their respective holders.
Share this article