Rankin Records a History of Violence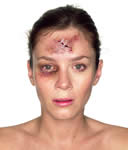 The controversial snapper photographs new domestic abuse campaign
International film director, fashion and portrait photographer Rankin has taken time out of his hectic schedule to work on a different kind of campaign. Today Women's Aid, the national domestic violence charity, launches its new domestic abuse awareness campaign under the new brand Act and Rankin has shot the striking images. Famous female celebrity faces such as Anne-Marie Duff, Fiona Bruce, Honor Blackman and Anna Friel have all participated in the campaign which hopes to emphasise the fact that domestic violence can affect every woman, no matter her age or situation.
Miquita Oliver, best known for presenting Channel's Popworld, explained her involvement: "I've never really thought about domestic violence before, it seemed to be something that didn't affect people my age, but it really does - there are many women in their late teens and early twenties who have either experienced violence in a relationship or have witnessed it at home in their childhood."
The head and shoulders portraits shot against a stark white background are reminiscent of the case file photographs police often record injuries to battered wives with and foreground the terrible bruising that each actress has seemingly sustained.

Nicola Harwin, Chief Executive of Women's Aid, said: "We want this powerful campaign to raise awareness of domestic violence, to get people talking about it, to make those experiencing it realise that they're not alone and to get everyone to do something to help."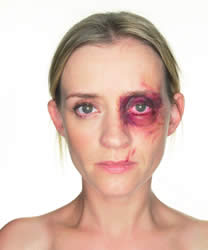 Rankin is also involved with Domestic abuse charity Refuge. The photographer's ongoing retrospective Me, Me, Me, which spans twenty years of his life as a photographer, is on display at The Gallery on Charing Cross Road. Each of the prints will be for sale. The tongue-in-cheek images are all self-portraits, but many are so heavily photoshopped that it is impossible to recognise the photographer; prime examples being Rankin as a female supermodel and as a pig.
To find out how you can get help or offer support go to http://www.womensaid.co.uk
Me, Me, Me is at The Gallery, 2nd Floor, Foyles Bookshop, 113-119 Charing Cross Road, London, WC2H 0EB
http://www.rankin.co.uk
http://www.womensaid.org.uk/landing_page.asp?section=000100010010000400080002
http://www.refuge.org.uk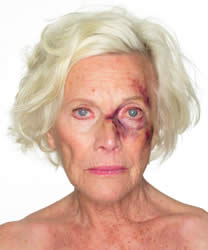 ACTOR, ANNA FRIEL
"In my first acting role (GBH) I played a victim of such abuse and, through the many letters Ireceived and the brave women I met during my research, I was exposed first hand to the lives that have been destroyed. These women need to feel that we're all aware of what they may be going through, to give them the confidence to speak out."
ACTOR, ANNE-MARIE DUFF
"My connection with Women's Aid began in the name of research. I was about to start work on a film in which I was playing a woman breaking free of a violent marriage. The BBC put me in touch with Women's Aid. The women I met; both the carers and the women who'd been forced to seek refuge, were all very welcoming. Anxious not to be misrepresented, they were open, brave, funny and generous."
ACTOR, HONOR BLACKMAN
"Domestic violence can be so easy for people to ignore, as it often happens without any witnesses and it is sometimes easier not to get involved. Yet, by publicly speaking out against domestic violence, together we can challenge attitudes towards violence in the home and show that domestic violence is a crime and not merely unacceptable."
PRESENTER, KATE THORNTON
"We all like to think that if we were the victims of domestic abuse we'd up and leave - but it's not always as easy or straightforward as that. Women stay with abusive partners for all kinds of reasons - they love them, they fear them, they have children with them, they believe they can change them or they simply have no where else to go."
Share this article