Redged to Introduce New Product Range at Photokina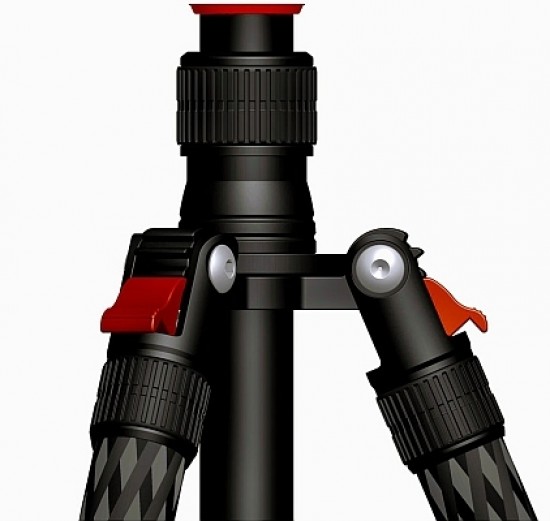 Dutch tripod brand Redged will launch a range of new products at this year's Photokina. The line-up includes the Redged TSB-527 travel and macro tripod, the Redged RTA-532 five-section tripod that extends to a maximum height of 2m, the RNB-360 ballhead made for panoramic photography, the ultra-compact RNB-0 ballhead with a maximum load capacity of 4kg and two "monopoles," i.e. extra-long extendible,monopods with maximum heights of 4m and 6m. In addition, the company also announced the launch of its new website.
Website: Redged
Redged Press Release
Redged, the brave new tripod brand from the Netherlands
In 2010 the photography world saw the premiere of Redged tripods on the international stage. Clear concept, excellent products, attractive prices, and a logical line-up. Marketeers recognised the serious brand building immediately, competitors kept a sharp eye on this newcomer.
Now, two years later, Redged is on the market in 21 countries. Expectedly the brand will be rolling out in many new countries after this Photokina.
Visiting us at Photokina is definitely worth wile. We ´ll have a lot of news to show you!
Meet Ed, the man behind Redged!
Dutch wildlife photographer Ed Dorrestein, CEO of GroupElite/Redged, is the brains behind the Redged concept. You can meet him at our booth. Want to know more about it? Interested in an interview? Please visit our booth, Hall 9, booth D-014
Redged introduces new tripod design
At Photokina 2012 the Dutch tripod brand Redged will introduce its newly developed Redged tripod design. 
The main development goals were: 
+ lighter and stronger construction
+ practical improvements
+ new look for improved brand identity
New: stronger and lighter bracket
The bracket, the core of the total tripod construction, offers improved ruggedness without adding weight.
New: easy lock clamp system
With the new clamps, setting the legs (choice of three positions) works easier and quicker. The new mechanism is self locking for extra convenience and security.
New: easy fix locking rings
The rings on the tubes require just a very short turn to reach firm and secure locking. They form a strong barrier against sand and dust entering the tubes.
New: 8-layer cross carbon material
Redged offers choice between aluminium, basalt and carbon tubes. The new 8 layer cross carbon compound material provides extra rigidity compared to the existing 6 layer material. By applying the carbon layers in a cross pattern, a stronger binding between the layers is achieved.
New: Traveller series - monopod included
All the new Traveller tripods (extra small because of the special folding construction) have a built-in monopod: one of the legs is removable and can be used as monopod.
New: design
Apart from the new technological details, the new tripods have a striking new design. 
Red aluminium accents provide a recognizable signature with an exquisite and sophisticated look. Furthermore the logo Holland Design underlines the origin of this new brand.
(Specs subject to change)
Redged introduces comprehensive new website
The new Redged website (www.redged.com) not only supplies you with all the information about the product line, you will also find instructional videos, user reports, video clips, reviews, and many examples of how the Redged tripods are being used around the world.
On the new website photographers find a wealth of inspiration offered by the continuously growing group of Redged immortals and ambassadors: first class photographers who chose for Redged tripods and want to show the visitors how they work and what they shoot.
Redged introduces RFH-39 fluid head for video
The Dutch tripod brand Redged adds a professional fluid head to its program. The surprisingly compact RFH-39 is suitable for weights up to 8 kilos and has an adjustable damping system. Balancing the head is easily done with de adjustable sliding camera plate, which is also  interchangeable with other B-system plates and rails. The long pan handle is also adjustable. 
The RFH-39 is in its final stage of development and is being tested in the Namib desert (Namibia). The RFH-39 was designed with extra attention for protection against sand and dust, which is of the utmost importance for smooth camera movements. (Specs subject to change)
Redged introduces 4 and 6 m high monopoles RMA-4M and RMA-6M
Based on the monopod construction Redged introduces the RMA-4M and RMA-6M: extra long extendible aluminium monopoles. These monopoles can be used for photographing from high viewpoints and positions that are hard to reach. Very useful for sports photography, real estate, garden design, group shots, industrial processes, etc. (Specs subject to change)
Redged introduces extra small ball head with quick release
The RNB-series of tripod heads is completed with an extra compact model with quick release system. This RNB-0 head can carry weights up to 4 kilo. The quick release works according the universal B-system. The plate can be replaced by the universal RB-15039 macro sliding plate (accessory). (Specs subject to change)
Redged introduces RNB-360 ball head for panorama photography
The new Redged RNB-360 head is specially made for panorama-purposes. The main difference with normal tripod heads is that the panorama-rotation is executed with the rotating top plate, not with the base of the head. This way it is very easy to make perfectly horizontal rotations. The RNB-360 head is suited for weights up to 12 kilos. (Specs subject to change)
Redged introduces compact tripod with 2m height
The new Redged RTA-532 tripod is extremely versatile. Maximum height is 2 meters (!), but because of the 5-section legs it is surprisingly compact. Maximum tube diameter is 32 mm, which means that this tripod offers a very high level of stability. Extra low viewpoints are also possible by using the lowest of the three leg positions.
Because of the small size, this tripod is the perfect choice for travelling landscape and architecture photographers. 
In the studio the RTA-532 will also perform very well. The extra height can be essential for photographing large objects or groups of people.
Leg material is strong, lightweight aluminium. Price/performance ratio of the RTA-532 is excellent. (Specs subject to change)
Redged introduces super compact travel and macro tripod
The Redged TSB-527 tripod is unique in the combination of compactness, ruggedness and versatility. Folded it is only 29 centimetres long (head included!) and it weighs just 1,1 kilo. This strong but small tripod is only a little longer than our macro tripod. But it is also smaller than the existing traveller tripods. The extra compact size is achieved by applying a 5-section leg construction, which is strong and stable enough to carry an camera weight of 6 kilo.
Tube material is strong and rigid basalt compound, cheaper than carbon and just a little heavier.
The legs can be set in three positions. Lowest camera position is 20 cm, highest 90 cm.
This makes the TSB-527 the perfect tripod for macro-shots from different heights, but also for general landscape shots. The small size makes the TSB-527 a perfect companion for the travelling photographer. Most important is the serious professional quality: you have all the features, materials and constructions of larger tripods: main difference is that the legs are shorter!
Included is the new RNB-01 head with quick release. (Specs subject to change)
Your Comments