Reflecta HD Digital Slide Duplicator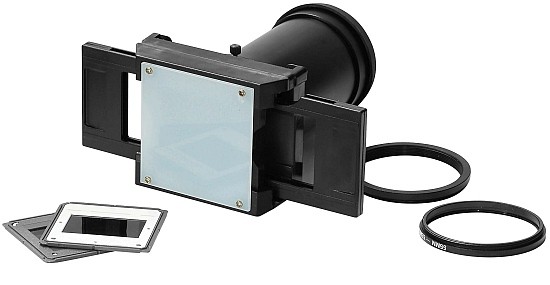 The new Reflecta HD Digital Slide Duplicator is a transparency digitisation attachment for your digital camera. Distributed by Kenro in the United Kingdom, the Reflecta HD Digital Slide Duplicator features a high-quality achromtatic close up lens, a mounted slide holder and a diffuser; and attaches directly to your digital camera's lens by way of an appropriate stepping ring. Included in the package are adapter rings for lenses with 37mm, 52mm, 55mm, 58mm and 62mm filter threads. TheReflecta HD Digital Slide Duplicator can be yours for£87 including VAT.
Kenro Press Release
Reflecta launches HD Digital Slide Duplicator
Kenro, the UK and Ireland distributor for Reflecta, the respected German manufacturer of cutting-edge digitization products, has announced the launch of a fast and inexpensive way to breathe new life into old slides.
Their new Digital Slide Duplicator boasts HD capabilities with a high-quality achromatic close-up lens, meaning old slides that may be gathering dust in the attic can now be seen in super-pristine quality.
With the HD Digital Slide Duplicator it is easy to photograph your slides with a Video, DSLR or SLR camera. Simply fit the Duplicator with the appropriate stepping ring onto the camera lens.  By using the slide holder provided you can adjust the slide in front of the lens, set the correct exposure and then capture the image on your camera.
Digitising once-forgotten slides using the HD Digital Slide Duplicator opens up a wide range of possibilities for your images. Once digitised, they are easy to print, email, upload to social media or burn to a disc to ensure their safe storage.
The scanner comes supplied an achromatic close up lens, stepping rings for 37/52/55/58/62mm lenses, slide tray and a user guide to ensure easy use.
"The HD Digital Slide Scanner from Reflector is an ideal choice for those looking to use old slides in a quick, easy and safe way," says Kenro Managing Director, Paul Kench. "Slides can have huge sentimental value to their owners but can often be ignored or forgotten about. The latest offering from Reflecta gives people the chance to bring these images into the 21st century for all to enjoy."
Other products in the Reflecta range include scanners, digital microscopes, endoscopes, video and studio lights, USB record players plus its renowned selection of slide projectors. If you would like further information, or want to find your nearest stockist, go to www.kenro.co.uk or call 01793 615836.
The HD Digital Slide Duplicator from Reflecta is available now with a suggested retail price of £87 (incl VAT).
Your Comments