Ricoh Lowers Prices of Key Products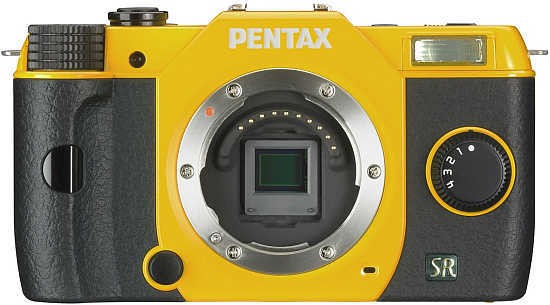 Ricoh UK has announced the repositioning of a number of its key products. The compact, lightweight and fully weather-resistant PentaxK-3 is now available at £949.99, the K-50 can now be had for £499.99, the weather-resistant DFA 100/2,8 MACRO WR lens has a new RRP of £549.99, the Pentax Q7 (pictured) has a new price tag of £339.99 - and the list goes on. Click through / read on for the details.
Ricoh Press Release
Ricoh Imaging UK announces price repositioning for key products
RICOH IMAGING UK LTD is excited to announce the repositioning of a number of its key products.
Customers can now benefit from even more competitive pricing on a wide range of DSLRs, compact cameras and lenses. So if you are looking for a quality camera at an affordable price, Ricoh Imaging UK has a model to suit your needs.
The K-3 has an array of outstanding features, including 24MP high-resolution image reproduction, a 27-point AF system; high-speed continuous shooting at approximately 8.3 images per second; high-precision exposure control with a newly designed 86,000 pixel RGB light-metering sensor; a new, large, high-resolution LCD monitor; and an optical viewfinder with a new coating designed to improve reflection, resulting in a much brighter viewfinder image.
Ricoh Imaging UK is lowering prices across a broad range of lenses and accessories offering great performance and value for money. Including the weather resistant DFA 100/2,8 MACRO WR now just £549.99!
DA 18/270
£549.99
DA 40 XS
£299.99
DA 18/55 WR
£199.99
DA 50/200 WR
£269.99
DA*200
£949.99
DA 35/f2.8 HD
£629.99
DA*300
£1,179.99
DA*560
£4,999.99
DA 17/70
£599.99
DA*60/250
£1,349.99
DA*55
£799.99
DA*15/f4 HD
£579.99
DA*16/50
£999.99
DA*50/135
£1,099.99
The PENTAX K-50 digital SLR camera has also been repositioned at just £499.99. This weather-resistant, dustproof, compact and lightweight SLR camera combines user-friendly operation, with a host of advanced shooting features usually only found in high-end models. The K-50 is available in 120 colours, to personalise and match any camera bag.
The PENTAX Q7 is the flagship model in the PENTAX Q series of compact system cameras and it can now be yours for just £339.99.  The PENTAX Q7 makes digital-SLR-quality photography accessible to everyone, and thanks to a new 1/1.7-inch, back-illuminated CMOS image sensor, delivers much improved image quality. In addition, the camera also offers a host of advanced features, as expected in a top-of-the-range model, including; high-sensitivity shooting, improved shake-reduction performance and effortless, user-friendly operation. You can have this all in 120 different colours, the stylish way for PENTAX camera users to express individual taste in their photographic system.
The 645D medium format camera competes with top of the range full frame cameras. It has a superior image quality sensor that is 1.7x larger than full frame delivering better pixel density and greater control of depth of field; suitable for those who are into professional photography. You can now have all of this for an RRP of just £4,249.99 (body only) offering excellent value for money in a medium format camera. Ricoh Imaging UK offers 13 dedicated lenses for use with the 645D including the 90mm f.28mm Macro; the only medium format lens with image stabilisation, making the 645D the perfect camera for professionals.
Check out the full range of cameras and lenses on the Ricoh Imaging UK webshop. www.shop-uk.ricoh-imaging.eu
Your Comments