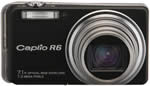 PMA 2007: The new Ricoh R6 is (still) the the world's slimmest digital camera with a 28mm wide-angle, 7.1x zoom lens. Changes from the older R5 model, include a larger 2.7 inch LCD screen, new face recognition mode (following the trend set by most other 2007 compact cameras), a slimmer body at just 20.6mm thick and 54Mb internal memory. The R6 otherwise retains the stand-out features of its predecessor, including a 7.24 megapixel CCD and vibration correction function. The Ricoh R6 will be available in mid-March 2007 in Silver, Black and Red for £229.99 (inc. VAT).
Ricoh UK Press Release
New: RICOH Caplio R6
World's Thinnest Digital Camera* with 28mm Wide-Angle 7.1x Optical Zoom Lens
Tokyo, Japan – March 5th, 2007 – Ricoh Co., Ltd. (president and CEO: Masamitsu Sakurai) has developed and launched the new Caplio R6 digital camera.
The new Caplio R6 features such as a 7.1x wide zoom and high performance CCD-shift vibration correction from the Caplio R5 (open priced, launched September 15, 2006, featuring 7.24 megapixel CCD). Vibration Correction eliminates the shake from hand movement, which is the main cause of blurred images. The Caplio R6 also incorporates advancements over its predecessor with new features such as a slim body 20.6 mm at its thinnest point (26 mm for the Caplio R5) and a face recognition mode that automatically recognizes the subject's face or faces and records the image at the optimal settings.
In addition to functional advancements, the Caplio R6 adopts the Caplio R5's design image while creating an anticipation of high performance through new design features. Those features include generous use of metal to house the lens, a distinctive strap attachment, and curves on the top. The Caplio R6 also features improved feel of robustness and texture.
*As of February 21st 2007. Among compact cameras with 28 mm (35 mm camera format) 5x or greater optical wide zoom lenses.
Main features of the new Caplio R6
1. 7.1x wide-angle zoom lens in the slimmest body in this class of camera, measuring in at a mere 20.6 mm at its thinnest point
• By completely rethinking the design of the double retracting lens system – an original mechanism that makes it possible to equip the Caplio R6 with a 28-200mm optical zoom lens in a 20.6mm thin body – all parts could be miniaturised through Ricoh's own technology at 0.01 mm levels.
• The lens setup was optimised by employing highly refractive glass lenses along with the double retracting lens system and by optimising the distribution of thickness in the lens assembly.
• A wide range of photographic options are supported from panoramic landscapes and wide-angle photography and indoor shooting under low light near the subject to impressive telephoto photography.
2. New face recognition mode that automatically identi?es faces to photograph people easily and clearly.
• The face recognition mode for automatically recognising and identifying faces uses a Ricoh-original algorithm to differentiate overall facial characteristics from other images viewed in the scene, thereby automatically detecting faces. Focus, exposure, and white balance are automatically adjusted to ?t the face even if the subject is not in the centre of the frame.
• If more than one person is in the frame, adjustments are automatically made that are optimum for the group as a whole.
3. Attention to high-quality design.
• On top of great portability, design features such as generous use of metal around the lens, a distinctive strap attachment, and curves on the top create an anticipation of high performance. The Caplio R6 sports an improved feel of robustness and texture.
4. Well-received vibration correction function as well as a variety of other innovations to prevent poor pictures from situations such as being out of focus or white saturation occurring
• Improvements have been made to the correction algorithm for the Ricoh-original CCD-shift vibration correction method for picture taking at macro and telephoto.
• A new feature in quick review lets you enlarge the image 16 times at the touch of a button. That way, you can check that the shot was in focus right away.
• A new function has been added to prevent white saturation by highlighting and ?ashing in quick review and playback areas with high luminance values when photographing.
• An auto high sensitivity mode has been added to allow clear shots in dark places. Sensitivity can be raised up to ISO 1600 depending on the brightness of the subject. Coupled with the vibration correction function, this gives even better blur prevention.
5. High picture quality photography through high-performance CCD and image processing engine.
• The 7.24 megapixel CCD allows for high-resolution photography.
• High-level image processing is achieved and images with low noise are produced through
an original image processing engine that operates at speed. Thanks to that, even photography at ISO 1600 sensitivity is possible.
6. Diverse range of original functions.
• The dual size recording mode allows you to record two ?les at the same time with one shot: a normal sized image and a reduced size image. You can choose from 1 megapixel, VGA, HVGA, or QVGA for the reduced size. This is convenient for using photos on the Internet such as when attaching to e-mail or placing in blogs.
• Internal memory is boosted to 54 MB (26 MB with Caplio R5). This lets you take 34 shots at 7M size normal mode even without a memory card.
• Multiple individual ?les can be selected for deletion. Furthermore deleted ?les can even be recovered with the new File Recovery feature.
• You can skip 10 images forward or backward in playback. This lets you quickly search for the image you want when many images are stored on large-capacity memory.
• A Ricoh-original macro mode allows close-in shooting of objects at as close as 1 cm with wide macro and as close as 25 cm with telemacro. A Zoom Macro function is included to allow use of digital zooming from the optical zoom position where subjects can be captured at their largest.
• The Caplio R6 includes an Auto Resize function that automatically changes the image size when shooting at 7M size and zooming in excess of 200 mm optical. This enables high zoom photography of up to 34.1x* (equivalent to 960 mm) at high image quality without image correction processing. It is also equipped with general digital zoom.
* at VGA image size
7. Large, high-resolution LCD.
• The Caplio R6 has a bright, high-resolution, high viewing angle 2.7-inch LCD (Caplio R5 LCD is 2.5 inches).
8. Long-life rechargeable battery for approx. 330 shots under CIPA standards (standard accessory).
• The power-saving features of the internal circuit allow for a battery life equivalent to previous models, even with the smaller battery in the slimmer Caplio R6
9. Skew Correction function.
• Through an original algorithm that automatically detects trapezoids in images based on composition when shooting and corrects them to rectangles, images can be corrected to look as though they were shot from the front. The function is most effective in business environments where subjects such as blackboards, overhead projector images, time schedules, and signs cannot be shot from the front.
Accessories included:
Rechargeable Battery DB-70 / Battery Charger BJ-7 / USB Cable / AV Cable / Handstrap / Software CD-Rom / Instruction Manuals
Ricoh Caplio R6 – Major Specifications
CCD:
Effective 7.24 million pixels (total 7.41 million pixels), 1/2.5-inch primary colour CCD
Lens:
Focal length: f=4.6-33 mm (equivalent to 28-200 mm for 35 mm film cameras. With Step Zoom set, option of seven fixed lengths: 28 mm, 35 mm, 50 mm, 85 mm, 105 mm, 135 mm, and 200 mm)
Vibration Correction Function:
CCD shift method
Zoom:
Optical 7.1x zoom (equivalent to 28-200 mm for 35 mm film cameras),
Digital zoom: 4.8x, Maximum: 34.1x (equivalent to 960 mm) when used with optical zoom
Auto Resize Zoom: 4.8x*1, Maximum: 34.1x*1 (equivalent to 960 mm) when used with optical zoom
Object Distance:
Approx. 0.3 m - ? (Wide), approx. 1.0 m - ? (Telephoto)
Macro Shooting Distance:
Approx. 0.01 m - ? (Wide), approx. 0.25 m - ? (Telephoto)
Shutter:
Still image: 8, 4, 2, 1 - 1/2000 sec. / Movie: 1/30 - 1/2000 sec.
Resolution (pixels):
Still image: 3072x2304, 3072x2048, 2592x1944, 2048x1536, 1280x960, 640x480
Text: 3072x2304, 2048x1536
Movie: 640x480, 320x240, 160x120
Picture Mode*2:
F (Fine) / N (Normal)
ISO Sensitivity (Standard Output Sensitivity:
AUTO / AUTO-HI / 64 / 100 / 200 / 400 / 800 / 1600
Flash:
Flash Off, Auto, Red-eye Flash, Flash on, Flash Synchro, Soft Flash
Flash Range*³: approx. 0. 2 m - 3.0 m (Wide-angle), approx. 0.25m - 2.0 m (Telephoto)
Focus:
Auto Focus / Manual Focus / Snap / ?
Exposure Adjustment:
TTL-CCD Metering Method: Multi Light Metering (256 segments) / Center-weighted Light Metering / Spot Metering
Exposure Compensation:
Manual exposure compensation +/-2.0EV (1/3EV Steps), Auto Bracket Function (-0.5EV, ±0, +0.5EV)
White Balance:
AUTO/ Fixed: (Outdoors / Cloudy / Incand. / Incand 2 / Fluores. / Manual) / White Balance Bracket
Memory Type:
SD memory card (3.3V: 32, 64, 128, 256, 512 MB, 1GB, 2GB), SDHC memory card, Multi media card, Internal memory (54 MB)
Storage Capacity*4 (No. of Pictures) (on internal 54 MB Memory):
Still image: 3072x2304 (F: 19, N: 34) / 3072x2048 (F: 22) / 2592x1944 (F: 27, N: 47) /
2048x1536 (F: 38, N: 74) / 1280x960 (F: 70, N: 133) / 640 x 480 (N: 580)
Storage Capacity (time) (on internal 54 MB Memory):
Movie: 640x480 15 frames/sec. (51 sec.) / 320x240 15 frames/sec. (2 min. 40 sec.) /
160x120 15 frames/sec. (9 min. 23 sec.) / 640x480 30 frames/sec. (26 sec.) /
320×240 30 frames/sec. (1 min. 22 sec.) / 160×120 30 frames/sec. (5 min. 6 sec.)
Storage Capacity (file sizes):
Still image: 3072x2304 (F: 2.57 MB, N: 1.48 MB) / 3072x2048 (F: 2.28 MB),
2592x1944 (F: 1.84 MB, N: 1.06 MB) / 2048x1536 (F: 1.32 MB, N: 672 KB) /
1280x960 (F: 686 KB, N: 356 KB) / 640x480 (N: 83 KB) (Sizes are approximate.)
Recording Mode:
Still Image: (Still Image, CONT., S-CONT, M-CONT) / Scene Modes (Portrait, Face, Sports, Land-
scape, Nightscape, High Sensitivity, Zoom Macro, B&W, Sepia, Skew correction, Text, Movie), My Setting 1+2
Recording Format:
Still Image: JPEG (Exif ver. 2.21) DCF*5 compliant DPOF support
Text: JPEG (Exif ver. 2.21) DCF*5 compliant DPOF support
Movie: AVI (Open DML Motion JPEG Format compliant)
Sound: WAV (Exif ver. 2.21 µ law)
LCD Monitor Display:
2.7 inch Transparent Amorphous Silicon TFT LCD (approx. 230,000 pixels)
Self-timer:
Operation time: approx. 10 sec./approx. 2 sec.
Interval Timer:
Shooting interval: 5 sec. - 3 hours (5 sec. steps)*6
PC Interface:
USB2.0 Hi-Speed (Mini B cable), Choice of Ricoh original or Mass Storage driver*7
AV Interface:
Audio Out/ Video Out
Video Signal Format:
NTSC/PAL switchable
External Dimensions:
99.6 mm (W) x 55.0 mm (H) x 23.3 mm (20.6 at the thinnest part) (D) (excluding projecting parts)
Weight:
Approx. 135 g (excluding battery, SD memory card, strap), Accessories approx. 26 g (battery, strap)
Battery:
Rechargeable battery (DB-70) x1
Shooting Capacity:*8
Based on CIPA Standard: using the DB-70, approx. 330 pictures
Operating Temperature Range:
0ºC-40ºC
*1: VGA image size
*2: Only F (Fine) is available for 3072 x 2048 size. Only N (Normal) is available for 640×480 size
*3: When the flash range is set for ISO AUTO
*4: Estimated number of still images it is possible to record
*5: DCF is the abbreviation of JEITA standard "Design rule for Camera File system".
(It does not guarantee perfect inter-camera compatibility.)
*6: With flash off
*7: Mass Storage driver is compatible with Windows Me/2000/XP/Vista, Mac OS9.0-9.2.2, and Mac
OSX10.1.2-10.4.8. It is not compatible with Windows 98/98SE or Mac OS8.6.
*8: Shooting capacity was measured using CIPA-standard parameters. This is only an estimate, and
performance may vary according to usage conditions.
* Windows is a registered trademark or trademark of Microsoft Corporation in the U.S.A. and other
countries.
* Mac OS is a registered trademark of Apple Inc. in the U.S.A. and other countries.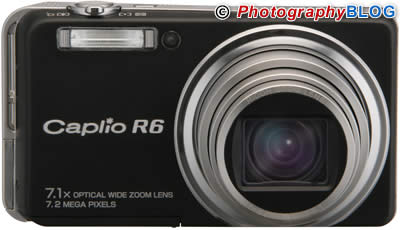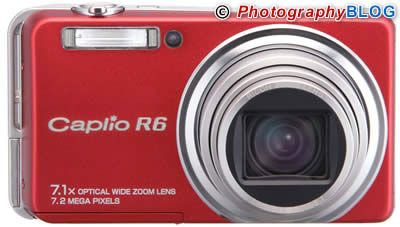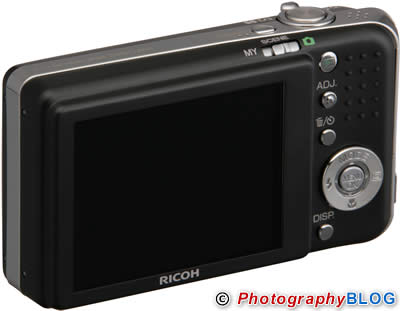 Share this article