Rollei Expands Powerflex Series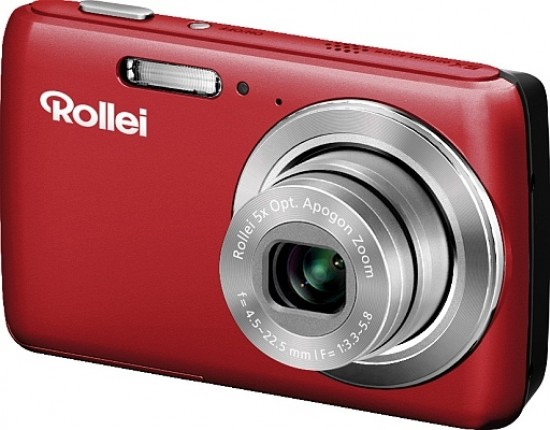 Rollei has added three new models to its Powerflex digital camera family. The ultra-slim Rollei Powerflex 400 (€79.90) is a 14-megapixel compact with a 25-125mm equivalent zoom lens, 720p HD movie recording and 32 scene modes. The 16-megapixel Rollei Powerflex 500 (€99.90) features a 28-140mm equivalent lens, 35 scene modes, HD video recording and a 3-second pre-recording function. Finally, the 14-megapixel Rollei Powerflex 600 (€129.90) has a three-inch display and a 25-200mm equivalent 8x zoom lens with optical image stabilisation. Like the Powerflex 400 it comes with 35 scene modes, a 3-second pre-record function and 720p HD video recording capability.
RCP-technik Press Release
Well set up: Rollei Powerflex Family!

Hamburg, December 2011
Rollei continues its Powerflex series: the Powerflex 400 is the latest entry-level model from Rollei. Standard equipment includes a 5x zoom lens and a 2.7-inch LCD screen with 230,000-pixel resolution. A larger 25mm wide-angle lens in 35-mm format helps to produce sharp images even at long distances. With its ultra-slim, stylish body (18.4 mm), it is eye-catching and will fit effortlessly in any jacket pocket. Using 720p HD video function (1280x720) you can even film clips with autofocus and zoom. And with a possible SD /SDHC memory capacity of up to 32 GB there are no limits to the fun you can have filming videos.
The Powerflex 400 offers a wide range of options with 32 shooting modes. These include standard programmes such as portrait and night shots, but there are also more experimental functions like Lomo, sketch or toy, as well as the new snapshot function, which make it a real fun camera.
Rollei Powerflex 500
The Rollei Powerflex 500 with 16 megapixels and 5x optical zoom has been available in stores since October and was introduced during the IFA. A 28 mm wide-angle lens helps to produce sharp images even at long distances. It has a sleek, ultra-slim body (22.2 mm) and comes in black, silver and red.

Rollei Powerflex 600
The Powerflex 600 is the newest member of Rollei's Powerflex family of digital cameras. This new compact camera (dimensions: 98x56.6x20.4mm) boasts 14 megapixels, a 3 inch LCD display and a multitude of other functions which novice photographers will particularly enjoy. These include an 8x optical zoom, 25mm wide angle lens, an optical image stabilizer and 35 shooting modes. The fish eye effect enables the small camera to capture the big picture.
In developing the camera, Rollei placed great emphasis on user-friendliness. It is easy to operate using a few simple buttons. A tried and tested 3-second pre-record function ensures that you'll never again miss the opening scene! The Powerflex 600 records videos in HD-quality (720p) and can also be used as a voice recorder. The card slot takes up to 32-gigabyte SDHC/SD cards.

Availability and price:
The Powerflex 400 is available in stores in silver, red and black, for an RRP of EUR 79.90.
The Powerflex 500 is available in stores in black, silver and red, for an RRP of EUR 99.90.
The Powerflex 600 is available in black, silver and red for an RRP of EUR 129.90.
Your Comments