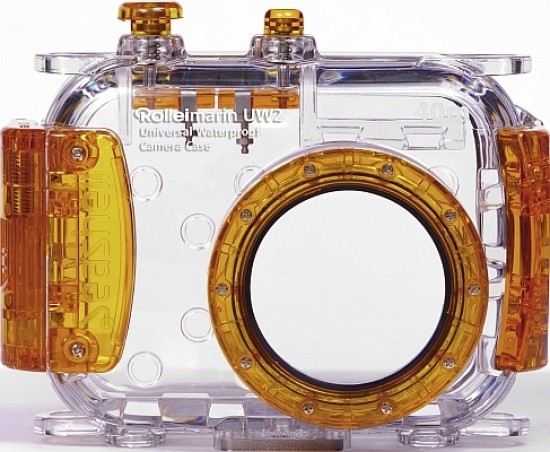 The Rolleimarin UW2 is a universal underwater camera housing for compact cameras. According to the distributor the Rolleimarin UW2 is compatible with hundreds of digital compact cameras ranging from approximately 8.2x4.6x1.3cm to 10x6.4x3cm in size. Dustproof, shockproof up to a height of one metre and waterproof down to a depth of 40m, this underwater case weighs 380 grams and is available in yellow, black and red for €199.
Rollei Press Release
Rolleimarin UW2: The universal underwater housing for virtually any camera
Hamburg, 31 March 2011

In the outdoor sector, RCP-Technik GmbH has added the Rolleimarin UW2 underwater camera housing to its existing product range.
This guaranteed waterproof and dustproof housing (dimensions: 140 x 98 x 76 mm) lends itself to both holidays by the sea and to snorkel training at the local swimming pool. And the best thing is, it fits almost any compact camera.
Rolleimarin UW2 is suitable for dives up to a depth of 40 metres and is shock resistant up to a height of one metre.  The anti-reflective glass ensures vibrant, high quality images in salt and fresh water environments. Up to 800 compact cameras ranging from approx. 8.2 x 4.6 x 1.3 cm to 10 x 6.4 x 3 cm in size can be equipped for underwater use without the photographer having to resort to different, usually very expensive housings. Each digital camera is secured in the 380 gram UW2 housing using various silicon and foam inserts. High quality workmanship and generously proportioned controls (shutter button and power switch) facilitate ease of use. The elegant and timeless housing (patented design) appeals to male and female divers alike.

Available in yellow, red and black, the Rolleimarin UW2 really catches the eye under water.
Included in the package:
The high-quality housing is supplemented with a comprehensive package of accessories: In addition to a matching template, several silicon and foam inserts and a mini tool to enable perfect alignment of any compact camera, also included are a shoulder strap, a wrist strap and a silica gel pack. A compatibility list of all suitable camera models is provided on the RCP-Technik website.
Availability and price:
The Rolleimarin UW2 underwater housing will be available in stores from the beginning of April 2011, in yellow, red and black, for a recommended retail price of EUR 199.00. Sealant and a replacement O-ring will be available for an RRP of EUR 19.95.
Your Comments