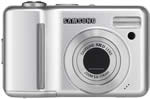 PMA 2007:The Samsung S830 digital camera offers an 8 megapixel sensor, 3x zoom lens equivalent to 35-105mm and a 2.5 inch LCD screen. Other features include ISO 1600, aperture priority, shutter priority and full manual exposure modes, and an Auto Macro function that automatically adjusts shooting distance and focus. The Samsung S830 will be available in the spring of 2007, price to be confirmed.
Samsung Cameras Press Release
Samsung Continues S-series with the Feature-Packed S830
8th February 2007 - Samsung Cameras today launches the S830, a fully featured digital camera with an advanced feature set including an 8.0 Mega-pixel image sensor and a 3x optical zoom lens (35 - 105mm, 35mm equivalent) to ensure superb digital images time and time again.
Compact and powerful the Samsung S830 offers high resolution and provides enough detail to produce high quality images large enough to be creatively used up to poster size and by taking advantage of the speed of the camera and its high resolution it is the ideal camera for taking images of any fast moving action such as sports and animals.
For maximum versatility and ease of use a convenient mode dial with a range of 10 camera settings is easily accessible. These settings include special scene modes such as Night, Portrait, Children, Landscape, Dawn, Close-up, Sunset, Backlight, Fireworks and Beach & Snow which help to produce stunning results in difficult lighting conditions by optimising the camera's exposure.
As well as offering a full auto mode the camera offers a manual option allowing the more experienced or adventurous user to take control of the settings for complete creativity.
The camera also offers the user the opportunity to record quality movie clips, complete with sound and the option to cut and edit in-camera giving the user flexibility and creative control.
Printing from the S830 is simple and easy at the push of a button when a successful connection is made between the camera's USB port and any PictBridge compatible printer.
For maximum versatility, the S830 can be powered by an optional Samsung rechargeable Ni-MH battery system, as well as available-everywhere AA alkaline batteries, making it the perfect choice for travellers and power users alike.
Other features include:
• Shutter speeds of up to 1/1000 sec
• An ISO equivalent of 1600
• A bright 2.5" LCD display
• "One-touch Playback" for instant playback of an image, even when the power is off
• Aperture priority, shutter priority and full manual control is available
• 20 megabytes of internal memory, and can accept Secure Digital (SD and MMC) flash memory cards up to 1 gigabytes
• Colour effects include B/W, sepia, blue, green and red
• An Auto Macro function that automatically adjusts shooting distance and focus
• Movie mode lets users capture video in one of three resolutions, from 160x128 to 320x240 and 640x480, at up to 30 frames per second in AVI (MPEG-4) format. Movie stabilization can be engaged to compensate for unwanted camera movement and subject blur
• A built-in microphone allows a 10-second voice memo to be attached to any still image
The Samsung S830 will be available in the spring of 2007 at an RRP of £TBC.
About Samsung Cameras
Samsung Cameras is a leader in delivering high-end digital cameras for today's and future generations of photographers. Merging technical innovation with superior design, Samsung's global brand image has been enhanced tremendously in recent years – it is one of the world's most powerful and fastest growing brands today.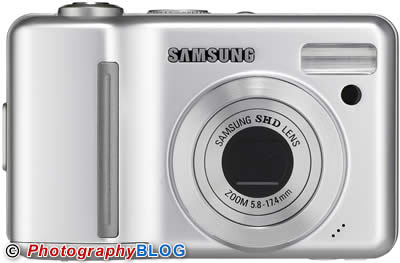 Share this article