Samsung UD590 Now Available to Pre-Order in UK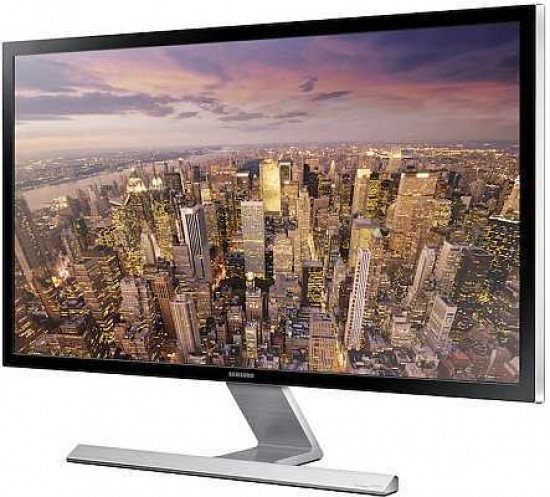 Samsung's new UD590 Ultra HD monitor is now available to pre-order in the United Kingdom. Going on sale exclusively with Overclockers from 1 June 2014, the Samsung UD590has a 28" TN panel, GTG response time of 1ms, static contrast ratio of 1000:1 and maximum brightness of 370cd/m2. It offers a DisplayPort and two HDMI 1.4 connectors but no DVI interface. Samsung's Picture-by-Picture feature enables you to connect two different PCs to the display and see the desktops of both simultaneously on one screen that's divided into two. The monitor also includes UHD up-scaling technology that converts low-resolution content to Ultra HD. 
Samsung Press Release
SAMSUNG'S FIRST ULTRA HIGH DEFINITION MONITOR AVAILABLE TO PRE-ORDER

Samsung UD590 display monitor to go on sale at selected retailers
29th May, 2014, London UK – Samsung Electronics Co. Ltd, has today announced that customers in the UK are now able to pre-order the UD590 UHD display monitor, which will go on sale exclusively with Overclockers from June 1st 2014. The UD590 will then be available from 15th June from a range of stockists including the Samsung eStore, Currys PC World, Argos, eBuyer and Amazon.
The UD590 monitor introduces Samsung's UHD technology, providing four times the resolution of Full HD (FHD) displays. With a response time of 1ms, the UD590 displays movies, games and Internet-streamed content perfectly, without any blurring, for a totally immersive viewing experience. Capable of displaying one billion colours, 64 times more colours than the standard monitor, the UD590 delivers unrivalled picture quality. It also includes UHD up-scaling technology that converts low resolution content to UHD-level picture quality and creates sharper images.
The monitor's Game Mode is new to the display range this year, and is a key feature of the UD590 creating deeper blacks and reduced motion blur for the ultimate in real life gaming effects. Each UD590 will be accompanied with a complimentary copy of action-adventure-stealth video game Watch Dogs, from launch date till 31st July 2014. Furthermore, an additional HDMI port is essential to this multimedia monitor, allowing gaming devices and laptops to be connected to one monitor at the same time.
Phil Gaut, Display Director, Samsung UK and Ireland said: "We are continuing to add more innovative solutions to our display range to meet the individual needs of the market. Our first ultra-high definition monitor, the UD590, highlights Samsung's focus on delivering the best technology possible direct to consumers. We are excited to announce that the monitor is available to pre order now and will be on sale from the start of June, initially with our exclusive retail partner Overclockers and then with our wider retail partners later in June"
Your Comments