Samsung VP-MS1X 6-in-1 Camera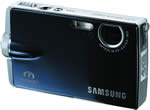 Samsung Press Release
Hanover, Germany - 9 March 2006 – Samsung Electronics Co., Ltd. is enhancing its Camcorder product range by bringing a new multifunction digital camera series to CeBIT. The VP-MS1x, the first product in this category, is a business card sized digital camera that provides users with portability and huge storage capacity. "Our customers wanted a lightweight, compact, easy to use digital stills and video camera that could be carried anywhere, yet that had a large storage capacity," said says Moon Soo Bang, Vice President of the Digital AV Division of Samsung. "Our team designed a slim, elegant product that not only takes the highest quality still pictures currently available on a Camcorder, but also built into it innovative functions such as flash memory, which allows users to still take great pictures even if the memory card runs out of capacity."
The SC/VP-MS1x boasts multi-functionality as well as premium performance. It still combines 6 functions into an ultracompact product – digital video camcorder, digital still camera, MP3 player, voice recorder, data storage and web camera function.
High glossy and luxurious exterior of the product is an attention-getter. Whilst the lightweight, robust aluminum body and business card size enable users to carry the camera at all times. An intuitional mode dial key provides easy and quick control, where users just turn the mode dial to set each function using only their thumb. The SC/VP-MS1x comes in three new colors – piano black, metalic silver and wine red.
Features and performance
Despite its compact, slim design, this cutting-edge product delivers high quality MPEG4 movies (640x480, 30fps for NTSC, 25fps for PAL) and photos of 2592x1944 pixels on a 2.5" large LCD through a 5.25 mega pixel CCD. The device comes up with a 64MB (SC/VP-MS10) / 128MB (SC/VP-MS11) / 512MB (SC/VP-MS15) built-in memory and adds storage capacity through a mini SD card slot. In case of SC/VP-MS15, the 512MB built-in memory holds up to 27 minutes of digital video and 410 still images.
The SC/VP-MS1x has a 3X optical zoom and 15X digital zoom, the optical 3X zooming is still possible while recording videos. Also, the Samsung Memory Camera's Anti-Shake function reduces image blur from camera shake and ensures sharp and clean still shots.
One of the new features on this model is the hot keys and painless GUI. Intricate mode change is easy as the hot keys are synchronised with the dial, so that when changing the functions, you can view the most frequently used modes.
Users are also able to charge the SC/VP-MS1x via USB connection to a PC, so that there is no need to travel with a power cable or an optional charger.
Printing images are made simple by directly connecting a USB cable to a PictBridge™ -compatible printer. Thanks to the latest technology from Samsung, it is also now possible to print to A3 size, offering greater magnification and vivid colour.
VP-MS1X Specifications
Bulit-in memory 64MB (SC/VP-MS10) / 128MB (SC/VP-MS11) / 512MB (SC/VP-MS15)
Optical 3x, Digital 5x Zoom Lens
MPEG4 SP (640 x 480 / 25fps on PC, 640 x 576 / 25fps on TV)
5.25 Mega pixel CCl
2592 x 1944 JPEG still image
2.5" LCD (154K pixel)
Mini SD card Slot
USB 2.0
PictBridge™
Flash Light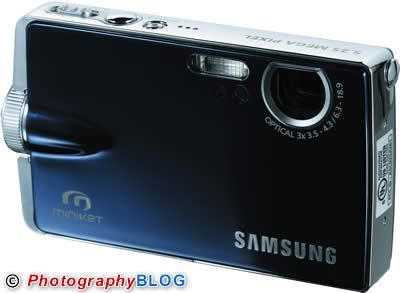 Share this article