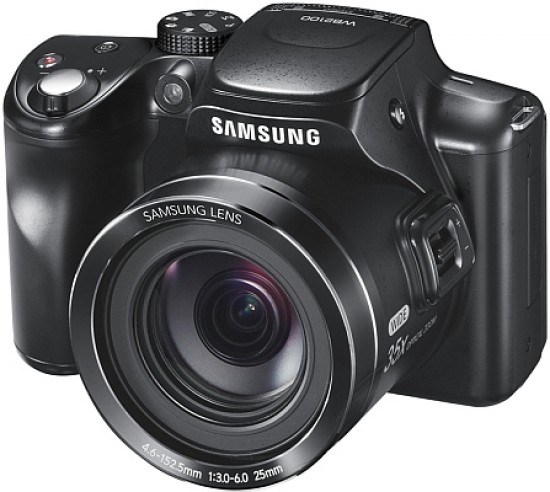 The Samsung WB2100 is a 16.3-megapixel bridge camera with 35x optical zoom. Featuring an optically stabilised 25-875mm equivalent superzoom lens with a maximum aperture of f/3.0 at the wide end and f/6.0 at full telephoto, the Samsung WB2100 is capable of recording moving pictures in full 1920 x 1080 / 60i resolution, in addition to capturing sixteen-megapixel stills. Other highlights include a sweep panorama mode, a 3-inch tilting screen and automatic scene recognition. Pricing to be confirmed.
Samsung Press Release
A new super telephoto camera with Full HD movie quality functionality
The new WB2100 is one of the latest editions to the WB series of long-zoom models. With 16.3 megapixels, 35 optical zoom and 25mm wide angle lens, the camera creates stunning long distance shots at ease with users able to effectively point and shoot for an enjoyable and high-powered photography experience.
The super telephoto camera captures moving pictures in full 1920 x 1080 / 60i high definition recording mode. Coupled with the "movie zoom" feature, the photographer can now become the director and generate close up and intimate pictures thanks to the 35x optical zoom that can be applied while in recording mode, with no interference seen to the overall movie experience.
The 16 megapixel BSI CMOS Sensor captures professional images, even in challenging conditions, due to Samsung's scene recognition, Smart Auto, and Low Night Shot technology.
With Panorama users can see the final image before taking the shot via holding the shutter button down and sweeping across the scene, allowing the image to be viewed on the detailed 76.2mm (3") LCD screen. The tilt display makes it easier than ever to take high and low angle shots, letting you capture your world from any angle you choose. In addition, the optical image stabilisation function means blurry photos are a thing of the past. No need to reshoot.
With its sleek and stylish finish and fantastic image quality performance, this camera is ideal for practical and design conscience photographic enthusiasts who want to achieve detailed shots of architecture and nature alike. Designed with the customer in mind, the WB2100 comes with soft feeling hand grip providing the user with premium comfort and control.
Available in black or red, the unobtrusive WB2100 fits the camera lover's lifestyle and carry bag.
Your Comments