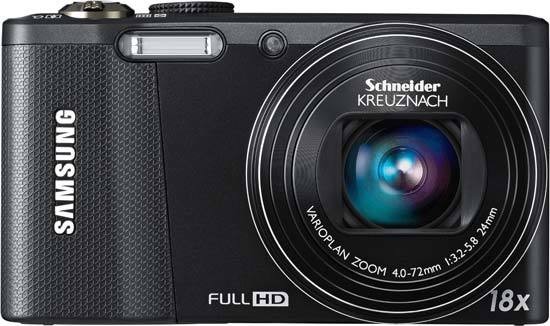 The Samsung WB750 is a new travel-zoom digital camera. Boasting the company's latest BSI (Back Side Illuminated) CMOS sensor, the 12.5 megapixel WB750 features an 18x optical zoom, 24x smart-zoom and 24mm ultra wide angle lens, 10fps burst shooting, and 1080p video recording. The Samsung WB750 will be available in September for £249.
Samsung UK Press Release
Samsung's New WB750 Takes You Further and Faster Than Ever Before
Get even closer to the action without compromising on quality with Samsung's latest long zoom offering
London, UK - September 1, 2011 – Today at IFA 2011, Samsung Electronics announces the launch of the WB750 – boasting the company's latest BSI (Back Side Illuminated) CMOS sensor that ensures consistent professional images with a wide range of unique features. With its own innovative in-house sensor, lens and DSP 3 key component, this is the first time Samsung's technology has been brought to the compact camera market. The WB750 also features the longest ever zoom in the company's compact camera portfolio, with an 18x Optical Zoom, 24x Smart-Zoom and 24mm Ultra Wide Angle Lens.
The WB750 joins the WB700 as the perfect accessory for today's traveller, guaranteeing a powerful optical performance so users never miss a special moment – be they travelling light on a romantic city break or hiking in remote mountain ranges.
With its 12.5 Megapixel BSI CMOS sensor, the Samsung WB750 is easier than ever to deliver consistent professional images. Introduced to Samsung's compact camera range for the first time, this pioneering BSI CMOS technology works to significantly reduce image noise and distortion in favour of clear, precise photos and video, even in low light conditions. Equipped with a high speed continuous still shot of 10fps and a movie recording speed of up to 1000 fps, the device ensures that incredible quality is delivered in real-time.
The Samsung WB750 gives users the best of both worlds: high-quality digital photos as well as Full HD video for incredible depth of colour and detail. Samsung's sophisticated Dual Capture function unites the two, enabling users to take 10 Megapixel photos whilst simultaneously recording video in full 1080p HD quality.
When speed is of the essence, Creative Movie Maker enables users to instantly create a fun and shareable slide show on the move in just four steps. Rather than needing to upload content to a PC, this feature allows you to get creative by collating photos and videos into one themed file on the device itself, adding impressive effects and music instantly. Movie Maker ensures you can enjoy your travel moments in full quality picture definition for years to come.
Nick White, Head of Digital Imaging, Samsung UK comments: "We recognise consumer desire to capture the upmost level of detail in their shots and believe that the WB750's increased zoom and ultra wide angle certainly meet these demands. Position is everything when capturing the perfect picture. The 18x Optical Zoom, 24x Smart-Zoom and 24mm Ultra Wide Angle Lens offer our customers the most up-to-date technology. In addition, its portable design makes it the ideal travel companion, ensuring you can do justice to your most memorable holidays. The unique features of the WB750 bring to market high quality imaging technology, fun features and the perfect tool to get creative, particularly for those on the move."
Breathe life into your images
With its range of Panorama features, the WB750 helps convey a sense of dynamism to images. Whether vertical or horizontal, Live Panorama, 3D Panorama or Action Panorama, breath-taking scenery or an unforgettable holiday moment with friends, the multitude of options are guaranteed to fulfil your photographic needs. Action Panorama, for example, tracks a moving person or object with a static background to record movement within one, still photo, whilst the Live Panorama function allows the easy capturing of large groups simply by holding down the shutter button and sweeping the camera across the scene, allowing the user to preview the whole scene they've just captured via the LCD. The 3D Panorama, meanwhile, works to bring your photos to life even further, using one lens and one sensor to create a 3D image, to give family and friends a taste of your trip on your return home.
Consistent quality at your fingertips
The camera's innovative HDR (High Dynamic Range) provides an abundance of colours that give an outstanding richness to the WB750's images, opening up the colour spectrum for the most vibrant results. Providing the opportunity to take hyper-realistic images without the use of photo editing software, HDR brings an added level of clarity to images, whether you're capturing a lake at sunset or a tree-lined street in the morning sun. The WB750 merges multiple exposures of shots to ensure images have an artistic finish, whilst creating a greater range of luminance results in perfect exposure across all areas. The camera's HDR feature ensures that WB750 users capture their creative visions through the latest cutting-edge technology.
Smart Auto 2.0 identifies and automatically selects the most appropriate of its 16 photo and four movie modes, to help you achieve standout results. So, even when you are caught-up in the moment, the WB750 makes sure you can capture every special moment on your journey.
Customise your world
Creating standout images is even more effortless, thanks to the WB750's Smart Filter 3.0. The extensive variety of effects and colour options lets the user customise shots with ease. New special effects include: Oil Paint, Cartoon, Ink Painting Colour and Cross Filter. These features can be enjoyed in preview mode and after taking the picture. In addition, Zooming Shot, which can be used in scene mode, makes creating unique shots even easier. By experimenting with the focus, you can highlight the centre of a shot whilst blurring the rest, thereby selecting a part of the image to stand out.
Staying in creative control
Purpose-built and powerfully-personalised shooting options ensure the advanced user has full manual control, allowing images to be tailored just as you need. Aperture Priority and Shutter Priority settings let users experiment with shutter speeds and depth of field, so shooting fast-moving images in low light has never been easier.
Keeping it fun
Magic Frame further builds on this creative theme, allowing you to express yourself through adapting photos to reflect your mood and personality. Frame templates include Wall Art, Old Film, Ripple, Full Moon, Old Record, Magazine, Holiday, Classic TV and more, and are incredibly simple to achieve - just point the camera at the desired subject, fit it within the on-screen template, capture and - like magic - your frame appears.
Intelligent Face tracking
When the action begins, or your subject starts moving, it can be hard to keep the camera focused. The Intelligent Object Tracking feature automatically focuses on an object while in motion, letting you easily track the action. So, even if you're trying to capture special images of fast moving animals on safari or loved ones at the beach, you'll never miss a perfect shot.
Specifications
WB750
Image sensor Type 1/2.3? (Approx. 7.76mm) CMOS
Megapixel 12.5 Megapixel
Lens Focal Length Schneider-KREUZNACH f = 4 ~ 72mm
(35mm film equivalent : 24~432 mm)
Digital Zoom Still Image mode : 1.0X ~ 4.0X(Optical x Digital : 72.0X)
Play mode : 1.0X ~ 9.4X (depends on image size)
Smart Zoom 1.34X (Optical x Smart Zoom : 24X)
Image stabilization Dual IS (OIS + DIS)
* OIS (Optical Image Stabilization), DIS (Digital Image Stabilization)
Display TFT LCD, 3.0" (7.62cm) hVGA
Modes 1.Smart Auto, 2.Program, 3.Aperture Priority/Shutter Speed Priority/Manual, 4.Dual IS 5.Scene, 6.Panoram, 7. Creative Movie Maker, 8.Movie
Smart Auto Portrait, Night Portrait, Backlight Portrait, Night,
Backlight, Landscape, White, NaturalGreen, BlueSky, Sunset,
Macro, Macro Text(with Smart Guide), Macro Color, Tripod,
Action, Fireworks
Still Image Smart Filter Nomal, Miniature, Vignetting, Soft focus, Old Film, Half tone Dot, Sketch Effect, Fish Eye, Classic, Retro, Oil Paint, Cartoon, Ink Painting, Cross Filter
Image Adjust Sharpness, Contrast, Saturation(5 steps)
Slide show Slide show with Effects & Music
Movie Clips Features - 18X Optical Zoom enable (Max Recording time : 20min)
*Due to the noise while optical zooming, user can select to record sound or not.
(Voice recording selectable : Sound Alive On/ Sound Alive Off/ Mute)
Smart Movie Landscape, BlueSky, Natural, Green, Sunset
Edit (Playback) Pause during Recording and Playing, Still Image Capture
Interface Digital Output Connector USB 2.0 (Micro USB)
Video output AV : NTSC, PAL (user selectable)
HDMI 1.4 (CEC) : NTSC, PAL (user selectable)
(Built-in HDMI Type D)
Special Features - 12.5M BSI CMOS
- 24mm 18X Zoom (24x Smart Zoom)
- 3.0" TFT LCD (hVGA)
- 1080@ 30fps Movie recording / H.264 Format + HDMI (D Type)
- Dual IS
- Dual Capture (1080p + 10M Photo)
- Creative Movie Maker
- 3D/Live/Action Panorama, 3D Photo
- Sound Alive
- Advanced HDR
- FD+FR+FT (Face Tracking)
- Smart Auto 2.0
- Smart Filter 3.0
- Magic Frame
- Movie Recording button
- Wheel Key
- Built in HDMI Type D with Anynet+(CEC)
- Built in PC S/W (intelli studio), supporting F/W Update
All functionality, features, specifications and other product information provided in this document including, but not limited to, to benefits, design, components, performance, availability and capability of the product are subject to change without notice or obligation.
About Samsung Electronics Co., Ltd.
Samsung Electronics Co., Ltd. is a global leader in semiconductor, telecommunication, digital media and digital convergence technologies with 2010 consolidated sales of US$135.8 billion. Employing approximately 190,500 people in 206 offices across 68 countries, the company consists of nine independently operated business units: Visual Display, Mobile Communications, Telecommunication Systems, Digital Appliances, IT Solutions, Digital Imaging, Memory, System LSI and LCD. Recognized as one of the fastest growing global brands, Samsung Electronics is a leading producer of digital TVs, semiconductor chips, mobile phones and TFT-LCDs. For more information, please visit www.samsung.com.
Image Gallery
Click on a thumbnail to see the full version.
Your Comments