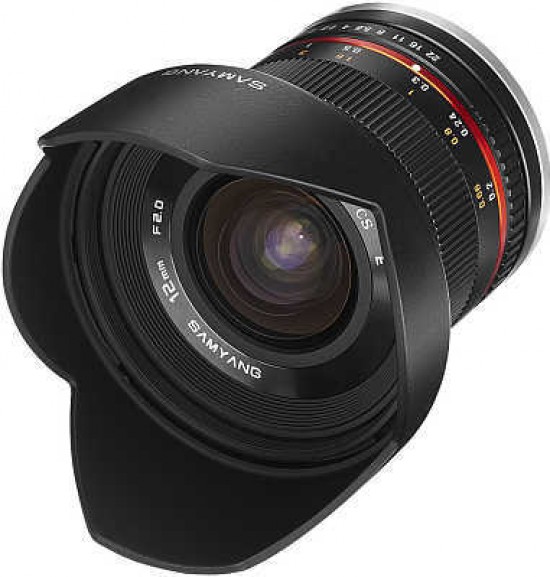 Samyang have announced a new, wide-angle 12mm lens designed for compact system cameras with APS-C sized (or smaller) sensors. This is a rectilinear, manual-focus lens with a diagonal angle of view of 98.9° (when mounted on a camera with an APS-C sized imager) and an optical formula that comprises a dozen elements arranged in ten groups. These include 1 aspherical, 1 hybrid aspherical and 3 extra-low dispersion lens elements. Nano-crystal anti-reflective coating is applied to the elements to improve contrast, reduce reflections and enhance light transmission. The product comes with a removable lens hood and 67 mm filter mount. Availability and pricing have yet to be confirmed.
Samyang Press Release
New Samyang 12mm 1:2.0 NCS CS lens
March 21st 2014 — Samyang have announced the release of a new, wide-angle 12mm NCS CS lens designed for mirrorless APS-C cameras.
The new Samyang 12 mm 1:2.0 NCS CS offers photographers an affordable, wide angle lens for APS-C mirrorless cameras. The lens has been designed for cameras fitted with a high resolution sensor. Samyang Optics has accustomed its clients to great quality optics offered at affordable prices and this is also the case with the 12 mm 1:2.0 NCS CS lens which provides technical parameters and potential that can easily compete with the best wide-angle prime and zoom lenses available on the market.
The new Samyang 12 mm gives a wide angle of view amounting to 98.9 degrees and rectilinear image mapping function. Owing to a large aperture range of f/2.0, the lens offers a high image quality even in poor lightning conditions. Optical construction of the lens comprises 12 elements divided into 10 groups, these components include one aspherical lens (ASP) and one hybrid aspherical lens (H-ASP). There are also three lenses made of ED glass with extremely low dispersion factor. Technologically, the 12 mm NCS CS lens is the most advanced Samyang lens to date and features nanocrystal anti-reflective coating. Benefits of using the nanocrystal cover include much better light transmission, higher resistance to reflections and higher contrast, which adds to the optical resolution of the lens.
The Samyang 12mm 1:2.0 NCS CS is the perfect lens for landscape photography and can be useful in interior and architecture photography or astrophotography. The product comes with a removable lens hood and 67 mm filter mount. It is light weight: weighing only 245 g and is compact in size.
Price TBA
Availability TBA
Available mounts: Canon M / Fuifilm X / Samyang NX / Sony E / MFT
For further details please contact Intro2020 on 01628 674411 or visit the Samyang website at: www.samyang.co.uk
facebook.com/SamyangUK
Your Comments