Samyang 50mm f1.4 and T1.5 Lenses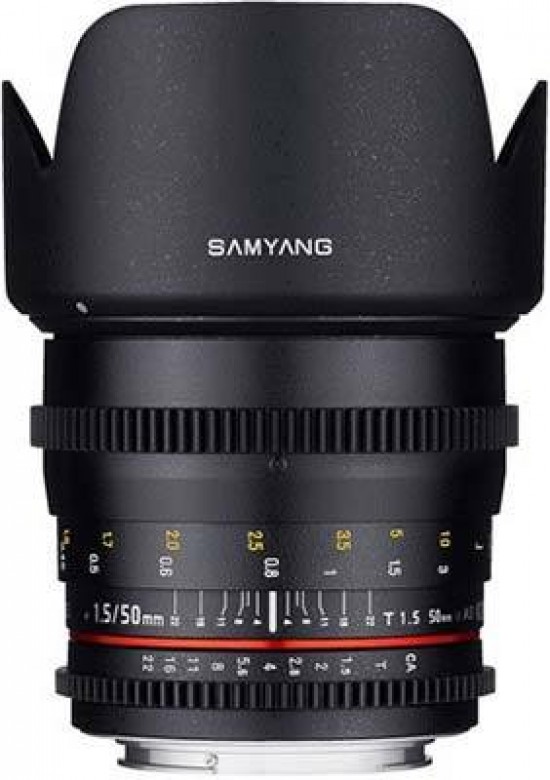 Samyang have officially announced the 50mm f1.4 and T1.5 lenses, due later in 2014. The much rumoured 50mm lenses will be available in the Samyang 50 mm f1.4 AS UMC photographic version and the Samyang 50 mm T1.5 AS UMC VDSLR cine lens version with decoupled aperture and follow focus gearing. Both lenses will be vailable in Canon EF, Nikon F, Sony E, Sony A, Fujifilm X mount, Pentax and Micro Four Thirds (MFT) fit, retailing for £449 for the f1.4 lens and £479 for the T1.5 version.
Samyang Press Release
Samyang have announced the release of a new cine lens V-DSLR 50mm T1.5 AS UMC. The product will be officially introduced at the forthcoming Photokina 2014 photographic fair in Cologne in September. 
This new lens fills the gap between the current Samyang 35mm and 85mm models and this cine lens will soon be joined by a photographic version. The Samyang brand now includes a complete set of bright lenses with exceptionally wide and useful focus ranges to meet the demands of both filmmakers and photographers. 
The Samyang 50 mm T1.5 AS UMC has been designed for cameras and camcorders with either full frame or smaller sized sensors. It gives 46.2 degrees field of view, and thanks to a high light transmission value of T1.5 (f/1.4) it ensures impressive image quality, even in low light. Optics of the lens consists of nine lens elements arranged in six groups (including one aspherical and one hybrid aspherical lens element). To ensure high contrast and faithful colour reproduction, all lens elements have been covered with multi-layered UMC anti-reflective coatings.
Samyang 50mm T1.5 VDSLR ensures exceptionally smooth and aesthetic mapping for out of focus areas beyond the focal plain, producing a bokeh effect. Thanks to the eight-bladed aperture, the subjects located outside the depth of field are shown with extremely smooth features. This feature will be appreciated by professional filmmakers and portrait photographers.
Suggested retail price £479.99 including VAT
Availability: from mid September 2014
For full technical specification please see www.samyang.co.uk
Your Comments