Saturday Shout: Which new DSLR would you buy?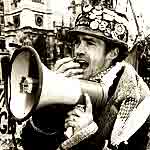 The last few weeks have seen a number of exciting new DSLR cameras announced, with the majority aimed at the prosumer photographer with around £1,000 / $1,500 burning a hole in their back pocket. Saturday Shout returns with a bang this week, as we ask you which "affordable" new DSLR camera would you buy, and why? Yes, that's right, we're asking you to pick just one of the following big-hitters:
Canon EOS 40D - 10.1 megapixel sensor, 6.5 fps continuous shooting,3 inch LCD screen, upgraded dust and weather resistant construction, ISO 3200 mode and DIGIC III processor.
Nikon D300 - 12.3 megapixel sensor, 6fps continuous shooting, 51 point autofocus system, 3 inch VGA LCD screen with Live View, self-cleaning sensor unit, expandable ISO settings from 200-3200, and new EXPEED image processing system.
Panasonic DMC-L10 - 10.1 megapixel sensor, unique 2.5 inch free angle LCD screen complete with full time live view, Face Detection, Intelligent ISO Control, nine film modes which replicate analog film styles, and Supersonic Wave Filter system.
Sony A700 - 12.24 megapixel CMOS sensor, BIONZ image processor, 11 point autofocus system, ISO 6400,5fps (for 17 shots in RAW mode), 1/8000th shutter speed, 3 inch LCD screen (with 921,000 pixels).
Olympus E-3 - Not too much is known about this DSLR, due in November - even its name has only recently been revealed!
Remember, you're only allowed to pick one of the above, but you can give as many reasons as you like for your choice. Try and ignore the slightly different price points that each camera is positioned at, and decide which model you would most like to have in your camera bag.
Your Comments