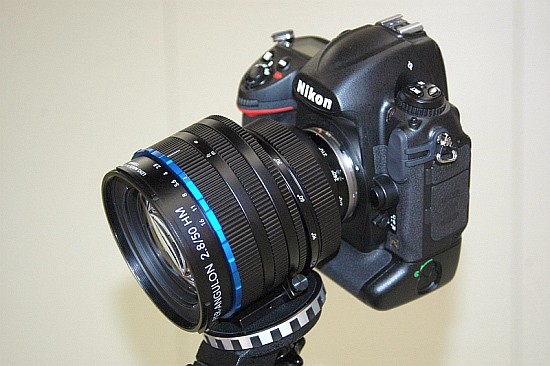 We checked out Schneider Kreuznach's booth to see what their new tilt-shift lenses looked like in the flesh. The company had announced three perspective control lenses just prior to Photokina, and all three were on display at their stand. Two of them, the PC-TS Super-Angulon 50mm f/2.8 HM and the PC-TS Makro-Symmar 90mm f/4 HM, will be made in Canon, Nikon, Pentax and Sony mounts. The first was shown attached to a Nikon D3, whereas the second was mounted to a Canon EOS 1Ds Mark II. According to one salesman on the stand, the lenses will cost approximately €2,400+VAT and €2,300+VAT, respectively. We got our hands on the third PC-TS lens - the Schneider Kreuznach PC-TS Apo-Digitar 5.6 / 120 HM Aspheric made for Mamiya / Phase One system cameras - as well, which will sell for around €3,350+VAT.
All of these lenses feature a tripod collar, and the camera can be rotated into portrait or landscape orientation without the photographer having to change the position of the lens or the tripod head. The lenses can be shifted by up to 12mm and tilted by up to 8 degrees. What we were most interested in was whether 8° of tilt was enough for close up photography. A senior Schneider Kreuznach employee at the booth has shown us two photos taken with the PC-TS Makro-Symmar 90mm f/4 HM at the f/4 setting, one without any tilt and one with maximum tilt and the difference was quite striking - however, those who are interested in buying it should of course conduct some tests of their own before committing to a purchase.
While we were there, we also snapped a picture of the Schneider Kreuznach PC-Super-Angulon 28mm f/2.8 shift lens, which you can also see in the gallery below.
Image Gallery
Click on a thumbnail to see the full version.
Your Comments