SD1 Merrill + 17-50mm f/2.8 EX DC OS HSM Kit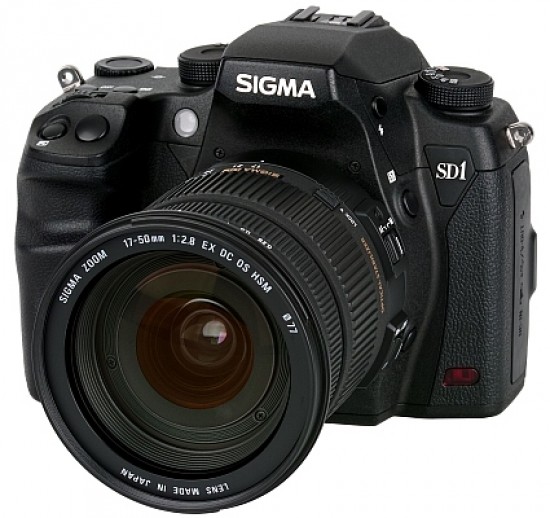 Sigma UK have announced a new digital SLR camera kit including the Sigma SD1 Merrill body and a Sigma 17-50mm f/2.8 EX DC OS HSM lens. The 17-50mm f/2.8 EX DC OS HSM lens is a large aperture standard zoom lens designed for digital SLR cameras and incorporates Sigma's Optical Stabiliser as well as a HyperSonic Motor for quiet focusing.  It is a compact lens with an overall length of just 91.8mm (3.6"). The new kit is available for £2149.99. (The Sigma SD1 Merrill camera body has a suggested retail price of £1839.99.)
Sigma Press Release
SD1 Merrill + 17-50mm f/2.8 EX DC OS HSM kit
The Sigma Corporation is pleased to announce the new SIGMA SD1 Merrill + 17-50mm f/2.8 EX DC OS HSM kit which has a Suggested Retail Price of £2149.99.
The SD1 Merrill is the latest high resolution and high image quality digital SLR camera featuring a 46 megapixel (4800×3200×3 layers) FOVEON X3® direct image sensor and has a body only SRP of £1839.99.
The SIGMA SD1 Merrill is the flagship model which incorporates a full-colour FOVEON X3® direct image sensor. It adopts a lightweight yet solid magnesium alloy body along with buttons and connected parts sealed with O-rings, enhancing the durability as well as preventing dust and water from getting inside the camera. The Dual TRUE II processing engine and DDR III buffer ensure high speed processing of images without lowering the quality. The 46 megapixel (4800×3200×3 layers) sensor ensures outstanding resolution and natural rendering with rich gradation as well as a three-dimensional feel.
The 17-50mm f/2.8 EX DC OS HSM lens is a large aperture standard zoom lens is designed for digital SLR cameras and incorporates Sigma's efficient OS function.  It is a compact lens with an overall length of just 91.8mm (3.6"). This lens covers a focal length from 17mm wide angle and offers a large aperture of F2.8 throughout the entire zoom range, making it ideal for many types of photography such as portraiture and landscapes.  The OS (Optical Stabiliser) function offers the use of shutter speeds approximately 4 stops slower than would otherwise be possible.  As compensation for camera shake is visible in the viewfinder, the photographer can easily check for accurate focus and ensure there is no subject movement. 
For further details, please see www.sigma-imaging-uk.com
Your Comments