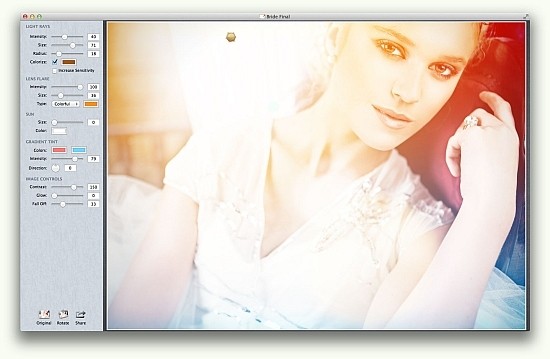 Ohanaware has released its latest photo enhancing application "Shine" for Mac OS X. The program uses lighting effects such as light rays and lens flare, as well as colour tinting and various other effects to alter a photo. Shine is available today, priced at $9.99, from the website below.
Website: Ohanaware
Ohanaware Press Release
Ohanaware release Shine 1.0 (Photo Enhancing Software) for OS X.
Jhangle, Pingtung, Taiwan (March, 2013)—Ohanaware Co., Ltd. release their latest photo enhancing application "Shine" for Mac OS X. Shine has been designed to enhance digital photos by using lighting effects such as Light Rays & Lens Flares, and enhancing the color of the photo by using gradient tints. It also features other enhancing effects such as "Sun", Dynamic Contrast, Highlight Glow & a brand new Light Fall Off (also known as vignette) effect.
## About Shine ##
Shine is a photo enhancing application that uses lighting effects such as Light Rays and Lens Flare, as well as color tinting and various other effects to alter a photo. With Shine, users can make photos look like they were taken in direct sunlight or without modern lenses.
Light Rays: Shine's light rays have various settings that control the strength, size, color and how the rays are generated.
Lens Flares: Shine features several types of lens flare, with options for adjusting the intensity, size and color.
Tinting: Shine's Tint engine allows the color to be altered by mixing the colors of the photo with user chosen colors. The Tint engine is a gradient tint, and the intensity, colors and direction can be changed by the user.
Addition light: Shine has a "Sun" function which allows for a light source to be position on the photo.
Straight-forward interface: Shine's interface has been designed so that all the controls are for editing the photo are clearly visible.
Retina Ready: Shine is fully Retina ready for Apple's MacBook Pro's and future Retina Macintoshes.
Dynamic Processing: Shine features the first generation of Ohanaware's "Dynamic Processing". Dynamic Processing is built into the core image processor and it adjusts the balance between quality of the preview and the computer it is run on. In most cases, editing the photo is stutter free, even on older hardware, while Shine is still able to display a high quality preview to the user. Dynamic Processing also takes advantage of the latest processors and graphics cards featured in modern Macintosh computers.
Full Screen Mode: On OS X 10.7 and 10.8, Shine can be put into Full Screen using the standard OS functions, while on Mac OS X 10.6, Ohanaware has provided a function for users to run the application Full Screen.
Comparison with the Original: Contained within Shine, is the functionality to compare the edited photo with the original photo.
Built-in Sharing: Sharing photos via Apple Mail, Facebook, Flickr & Twitter is possible within Shine as it features support for OS X 10.8 Sharing Services and provides a solution for customers not running 10.8.
Live Editing: Shine's document format allows for storage of the original image, and the changes made to it. Allowing the user to revert the document to various saved points and undo any changes even through application restarts.
## Pricing and Availability ##
Shine is available today from Ohanaware's website. Shine is currently $9.99 USD (Before tax) per single user license, discounted for a limited time from $19.99. A free (watermarking) trial can be downloaded from the Ohanaware web site. Ohanaware are currently running a promotion, whereby a customer purchasing Shine can get 30% off selected Ohanaware apps.
## System Requirements ##
Shine requires a Intel based Macintosh computer, running Mac OS X 10.6 or later. It is recommended to have at least 2 gb of RAM.
## About Ohanaware ##
Ohanaware is a husband & wife team living in the southern tip of Taiwan. Sharing a passion in Mac's and amateur Photography. Their first product 'Funtastic Photos' went on to win 4 star awards from both MacWorld and MacFormat. HDRtist Pro won 5 stars from MacFormat. Their previous games company had a top ten hit with Recyclorama. Joy Sha has a history in the design industry with experience as a 2D and 3D artist, she also holds a masters in 3D animation. Sam Rowlands has been writing software since 1990 and is an award winning software developer.
Your Comments