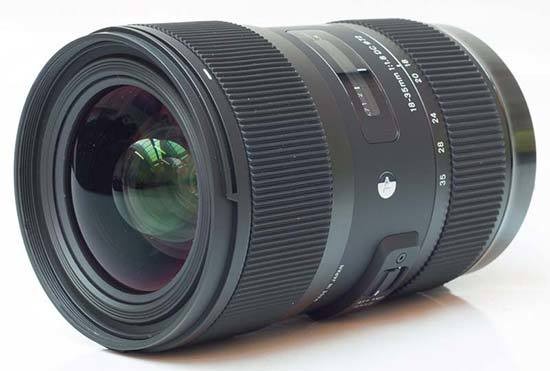 The Sigma 18-35mm F1.8 DC HSM is an exciting new standard zoom lens for APS-C DSLR owners. Offering a short focal length of 27-52.5mm in the 35mm format, the Sigma 18-35mm F1.8 DC HSM's most interesting innovation is its constant aperture of f/1.8 throughout the zoom range. Whereas most standard zoom lenses, even the more expensive optics, offer a maximum aperture of f/2.8, Sigma's new lens offers a faster shutter speed and even shallower depth of field. The Sigma 18-35mm F1.8 DC HSM could effectively replace a fast 28mm, 35mm and 50mm prime lens in your camera bag, although it doesn't offer the mild telephoto reach that a lot of standard zooms offer.
We've been lucky enough to have some hands-on time with the new Sigma 18-35mm F1.8 DC HSM ahead of it launch. Although we can't comment on the image quality of the pre-production sample, we can testify to its impeccable build quality. It seems that Sigma is determined to improve construction across its entire range, and this new lens is no exception, sporting the same brass mount, metallic parts, improved Focus switch and TSC (Thermally Stable Composite) material that we previously saw on the outstanding 35mm f/1.4 full-frame lens. The optical elements are made of high-grade glass and the focus ring is pleasingly wide and ridged for easier grip. At 810g, the Sigma 18-35mm F1.8 DC HSM is certainly no lightweight, some 250g heavier than the 17-50mm F2.8 EX DC OS HSM, but it does offer additional peace of mind.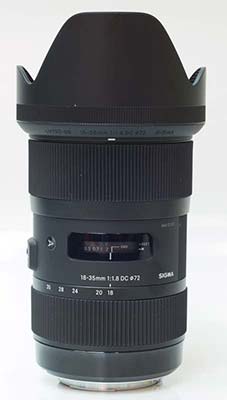 Although it's not designed for it, the Sigma 18-35mm F1.8 DC HSM actually complements a full-frame camera like the Canon EOS 5D Mk III very well, but thankfully doesn't feel out of place on a smaller APS-C camera like the Canon EOS 650D. In terms of features, the Sigma 18-35mm F1.8 DC HSM offers all the basics that you need from a standard zoom lens. The main exception is the lack of built-in Vibration Reduction, although the fast maximum aperture of f/1.8 makes up for this. Focusing is usefully internal and manual focusing is possible when set via the Focus switch on the lens barrel. Full-time manual focus override is also available at any time simply by rotating the focus ring. A clear distance scale in both feet and meters runs from the closest focusing distance of 0.28m / 0.92 ft to infinity. The Sigma 18-35mm F1.8 DC HSM ships with a plastic petal-shaped lens hood and it accepts 72mm filters.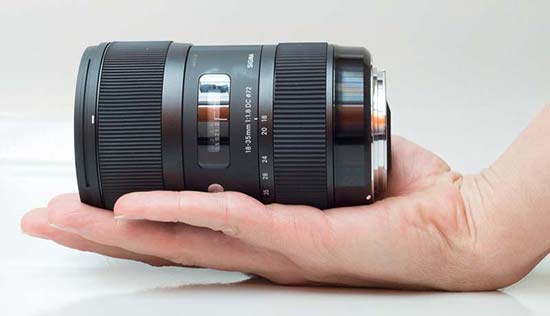 The Sigma 18-35mm F1.8 DC HSM lens has a wide focus ring. There are hard stops at both ends of the range, making it easier to set focus at infinity. Polariser users should be pleased that the 72mm filter thread doesn't rotate on focus. When it comes to auto-focusing, the Sigma 18-35mm F1.8 DC HSM zoom is   a quick performer, taking about 0.15 seconds to lock onto the subject when mounted on the Canon EOS 5D Mk III that we tested it with. We didn't experience much "hunting", either in good or bad light, with the lens accurately focusing almost all of the time. It's also a very quiet performer, thanks to the built-in HSM (Hyper Sonic Motor), which makes this lens well-suited to video recording.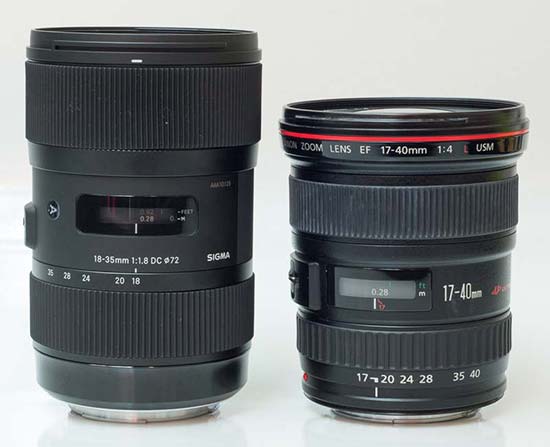 The Sigma 18-35mm F1.8 DC HSM isn't claimed to be a macro lens, but it delivers pretty good performance nonetheless. It has a minimum focusing distance of 28cm/11.0in and a maximum magnification ratio of 1:4.3. In the Sigma 18-35mm F1.8 DC HSM lens, Sigma have employed an iris diaphragm with nine rounded blades, which should result in some nice bokeh effects.
In summary the new Sigma 18-35mm F1.8 DC HSM lens is certainly a very innovative, well-built, quick and quiet standard zoom lens. Although a little shorter and heavier than most other rival lenses, it could conceivably replace 3 fast primes if the image quality matches the rest of its specification. We're looking forward to reviewing a final production sample to find out if the Sigma 18-35mm F1.8 DC HSM can realise its full potential.
Your Comments