Sigma DP1 Details Unveiled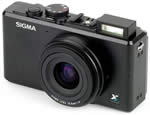 PMA 2007: Further details have been released for the Sigma DP1. The DP1 will feature a 14 megapixel FOVEON X3, APS-C size image sensor (2652 × 1768 × 3 layers) as used in the new Sigma SD14 digital SLR. The size of the image sensor used in the Sigma DP1 camera is 10 times larger than in a normal compact digital camera. The DP1 has a 16.6mm f/4 Sigma lens, equivalent to 28mm on a 35mm film camera. The Sigma DP1 will be available in Spring 2007, price to be anounced. Sigma have also launched a website dedicated to the DP1 at http://sigma-dp1.com/ (thanks to Bob van Ooik for the tip).
Sigma UK Press Release
New details released on the Sigma DP1 high-end compact digital camera
Sigma DP1 high-end compact digital camera equipped with 14 megapixel, APS-C size direct image sensor.
• 14 megapixel direct image sensor as used in the Sigma SD14 digital SLR.
• Featuring Sigma's new, unique 'True' image processing engine.
• 16.6mm F4 lens (28mm equivalent).
The Sigma Corporation is pleased to announce the launch of the new, groundbreaking Sigma DP1 compact digital camera featuring a 14 megapixel FOVEON X3 direct image sensor (2652 × 1768 × 3 layers) as used in the Sigma SD14 digital SLR. The image sensor uses three silicon embedded layers of photo sensors, stacked to take advantage of silicon's ability to absorb red, green and blue light at different respective depths. The size of image sensor used in DP1 camera is approximately 10 times larger than those used in an ordinary compact digital camera.
A 16.6mm F4 Sigma lens, with a wide angle field of view equivalent to 28mm on a 35mm film camera, has been developed to maximize the image quality in conjunction with the full colour capture image sensor. Glass mold aspherical lens elements provide correction for all types of aberrations and capture full and accurate colour information.
Sigma's unique and powerful 'True' image processor is incorporated into the DP1, enabling it to handle the large image files produced by the 14 megapixel sensor and reproduce exceptional definition with image quality equal to professional digital SLR cameras and on a par with top quality film. The Sigma DP1 is equipped with a large 2.5" TFT LCD monitor with 100% image preview, making confirmation of composition, focusing and exposure quick and easy. This compact camera includes JPEG recording format for speed and convenience and a RAW data (X3F) recording mode for retaining full image capture detail of the utmost quality.
The DP1 has a compact and lightweight body with dimensions of 113.3mm wide x 59.5mm high x 50.3mm deep and weighs only 240g. Its compact body and lightweight design makes it easy to carry everywhere.
The Sigma DP1 camera features a new, large 2.5inch, 230,000-pixel resolution LCD monitor. The LCD monitor displays 100% of the image, allowing the photographer to easily and accurately confirm the image composition.
The new design now includes a hot-shoe, thus allowing the attachment of dedicated external flash and high performance external viewfinder (VF11).
A dedicated lens hood, used to maximise performance from the lens and image sensor, is supplied as a standard accessory.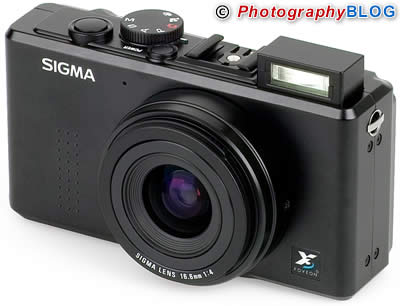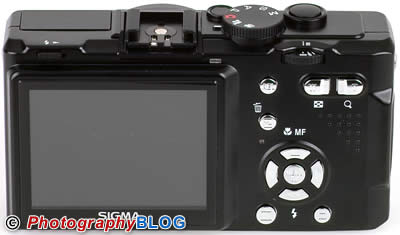 Your Comments