Sigma PMA 2008 Booth Tour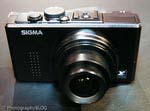 The long-awaited and long-delayed Sigma DP1 is back at another trade show! First unveiled at Photokina in September 2006, the DP1 is now slated for a March release, priced at $1000 rrp or $800 street. The sample that I tried was still a little rough around the edges, but it looks as if the Sigma DP1 will finally see the light of day. Also being displayed was a new 200-500mm zoom lens, costing a whopping £16,000!!!
Update: We've added pictures of the DP1 with optional external flash, optical viewfinder and filter hood attached, plus more shots of Sigma's new lenses.
Website: Sigma PMA 2008 Booth Tour
Share this article