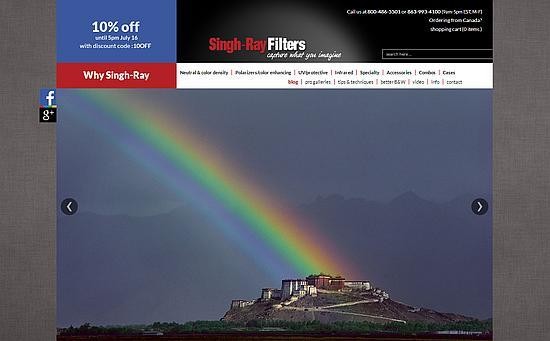 Singh-Ray Filters have just launched a new website showcasing close to 1000 photographs by over 50 major landscape photographers, including Art Wolfe, Ian Plant, Brenda Tharp, Tony Sweet, Jack Graham, Don Smith, Tom Till, George Lepp, Nevada Wier and Gary Hart. "Our new site celebrates the amazing work of photographers who use our products, in addition to being a site where you can find out about and purchase our filters and accessories," says founder Bob Singh. "Our blog will also include frequent posts by photographers who will share tips and techniques about their photography and how they use filters."
Website: Singh-Ray Filters
Singh Ray Filters Press Release
Singh-Ray Filters
Singh-Ray Filters launches new website featuring the work of over 50 leading photographers
July 8, 2014
 
Arcadia, FL – Singh-Ray Filters, a manufacturer of high-performance photographic filters, has launched a new website at www.singh-ray.com. The new site includes close to 1,000 photographs by over 50 major landscape photographers, including Art Wolfe, Ian Plant, Brenda Tharp, Tony Sweet, Jack Graham, Don Smith, Tom Till, George Lepp, Nevada Wier and Gary Hart.
 
"Our products are all about making outstanding images and supporting photographers in their effort to create those images," said founder Bob Singh. "Our new site celebrates the amazing work of photographers who use our products, in addition to being a site where you can find out about and purchase our filters and accessories. I believe our new site is a destination for one of the finest collections of landscape photography on the internet – and we will continuously be adding new photographers and their work. Our blog will also include frequent posts by photographers who will share tips and techniques about their photography and how they use filters."
 
About Singh-Ray Filters (www.singh-ray-filters.com)
For over 50 years, the world's finest photographers and videographers have relied on the superior performance of Singh-Ray filters. Singh-Ray continues to pioneer the most innovative products on the market, such as their 15-stop Mor-Slo neutral density filter. Photographers use Singh-Ray filters to create better, more dramatic images, with absolutely no sacrifice in image quality. All Singh-Ray filters are handcrafted in the USA.
Your Comments