SmartDisk FotoChute Image Storage Device Launched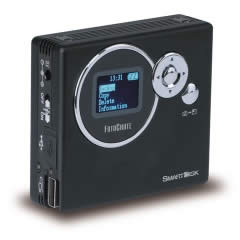 SmartDisk Press Release
FORT MYERS, Fla.—(BUSINESS WIRE)—Feb. 17, 2005—SmartDisk Corporation, a leading provider of portable, network and multimedia storage products and technologies, today introduced FotoChute(TM), a USB On-The-Go photo storage device.
"Pocket-sized FotoChute offers a fast, convenient and easy way to directly transfer digital photos from your camera," states Charles Klinker, Vice President of Marketing for SmartDisk. "Simply plug FotoChute into the USB port of your camera and, with one touch, copy and safely store your photos." FotoChute holds over 20,000 photos (at 800KB file size) on the internal 20GB hard drive and can be connected directly to a PC to offload images to share with family and friends.
Pricing and Availability
FotoChute will be available in March for $249.99 retail price through distributors, retail stores and at the company's Web site at http://www.smartdisk.com
.
About SmartDisk Corporation
SmartDisk is a leading provider of portable, network and multimedia storage products and technologies that enable people to enjoy, share and preserve digital content and information. Headquartered in the U.S., with operations in Europe and Asia, SmartDisk sells and supports its products worldwide. For more information, go to http://www.smartdisk.com
Share this article