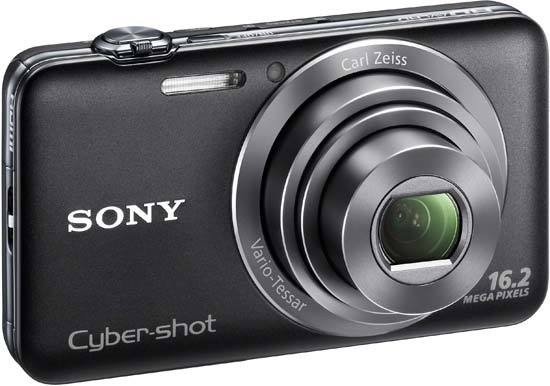 The Sony Cyber-shot WX30 is a new super compact, curvaceous camera. The Sony WX30 offers a 16 megapixel Exmor R CMOS sensor, Full HD AVCHD movies, 5x optical zoom and a 3 inch touch screen LCD. New 'By Pixel Super Resolution' technology boosts the zoom range to 10x without any loss of quality, and the WX30 can also capture 12 megapixel-level still photos during Full HD video shooting. The Sony Cyber-shot WX30 will be available in five different colours in September, pricing to be announced.
Sony Europe Press Release
Cyber-shot™ from Sony with up to 10x Clear Image Zoom in maximum resolution and artistic Picture Effect mode
  * Highest-resolution Exmor R CMOS Image Sensor yet (16.2 effective megapixel) with Full HD AVCHD movie
  * Clear Image Zoom up to 10x with new 'By Pixel Super Resolution' technology
  * Shoot 12 megapixel-level still photos during Full HD movie recording
  * DSC-WX30: First W series Cyber-shot™ from Sony with 7.5cm (3") wide touch-screen
  * Intelligent Sweep Panorama HR mode, 3D Sweep Panorama and 3D Still Image
  * Exciting in-camera artistic treatments with Picture Effect
Cyber-shot DSC-WX30
New Cyber-shot™ digital camera from Sony makes it easy to capture the moment with DSLR-style still photos, Full HD video and amazing 3D images.
The WX30 features a 16.2 megapixel Exmor R™ CMOS sensor, plus new 'By Pixel Super Resolution' technology that boosts zoom range to 10x without quality loss at the image sensor's maximum resolution (16.2 million pixels). The easy-to-use model also marks a Cyber-shot™ first with new Picture Effect mode that broadens artistic possibilities with no editing software needed.
Super-compact and sleekly curvaceous, the Cyber-shot™ WX30 offers an equally tempting range of imaging options for stills, Full HD video and 3D shooting. It's also the first-ever Cyber-shot™ WX-series model featuring a spacious 7.5cm (3") Xtra Fine LCD wide touch screen for beautifully simple fingertip operation.
Best-ever stills and Full HD movie shooting
The camera features a highly sensitive Exmor R™ CMOS sensor with 16.2 effective megapixels resolution. Whether you're shooting still images or Full HD video, you'll be rewarded with incredible image detail and ultra-low picture noise – even in low light conditions.
The Cyber-shot™ model introduces brand-new 'Clear Image Zoom' that boosts magnification without lowering pixel count in the final image. Exclusive to Sony, 'By Pixel Super Resolution' processing further extends the camera's 5x optical zoom range, allowing full-resolution 16.2 megapixel images with a maximum 10x zoom.
'By Pixel Super Resolution' technology also significantly boosts still image quality during movie recording. At a touch of the shutter button, 'Dual Rec' grabs detail-packed 12 megapixel-level still photos without interrupting Full HD video shooting.
Newly enhanced with additional electronic image stabilisation for vertical and horizontal handshake correction, SteadyShot Active Mode*** compensates for handheld camera movements during Full HD video shooting. You'll enjoy crisper, blur-free movie clips at all zoom settings, even if you're holding the camera while walking.
Intelligent Sweep Panorama also features HR (High Resolution) mode, letting you capture breath-taking 42.9 megapixel panoramas. Just sweep the camera: then enjoy the results on your connected HD TV, or zoom in with PlayStation®3 to reveal the finest details.
3D Still Image captures dramatic 3D photos without needing a big, bulky camera with stereoscopic lenses. Just press the shutter button once: 3D Still Image grabs a pair of frames in quick succession, estimating depth information to create a dramatic three-dimensional still image. Other 3D shooting options include 3D Sweep Panorama and Sweep Multi Angle.
Great results made easy
Making its Cyber-shot™ debut on the TX55 and WX30, Picture Effect broadens everybody's artistic options with an exciting range of in-camera image treatments. You don't need special editing software: just press the shutter button. A choice of seven Picture Effect options includes HDR Painting, Rich-tone Monochrome, Miniature, Toy Camera, Partial Colour, Pop Colour and Soft High-key.
Both digital cameras make it simple for anyone to achieve DSLR-like picture quality without fuss. Superior Auto mode recognises a wide range of shooting situations, adjusting exposure and other settings for more professional-looking images with low noise and high dynamic range.
Cyber-shot™ WX30 is compatible with the Party-shot™ IPT-DS2 docking base – your 'personal photographer' that's perfect for parties and fun family gatherings. Party-shot™ pans, tilts and zooms the camera as it searches for faces in the room, automatically shooting natural, beautifully-framed photos while you enjoy yourself.
The compact, beautifully styled new Cyber-shot™ WX30 camera by Sony is available from September 2011. The range of MSA[X]GN2 memory Stick Micro™ and SR[X] series MicroSD/SDHC media cards from Sony is available now.
Also available is an expanded range of co-ordinating accessories – including the colourful new LCJ-THF camera cover, AC-UD10 AC adaptor and BC-TRN2 fast battery charger.
Your Comments