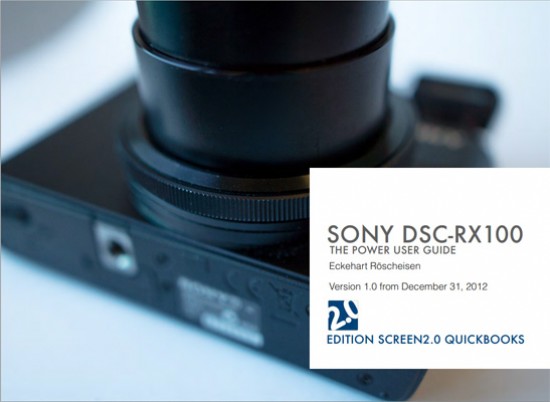 The Sony DSC-RX100 Power User Guide is a new PDF e-book optimised for the Apple iPad. The 106-page publication contains 90 illustrations and offers 35 real-world tricks with 50 inspiring examples. Written by Eckehart Röscheisen, the guide is available on iTunes for $8.99.
Screen2.0 Press Release
The Sony DSC-RX100 Power User Guide: Your Shortcut to Awesome.
The Sony DSC-RX100 is a milestone in digital photography, the first ultracompact camera that is able to create professional level results. With this camera your photographer's life will never be the same.
QuickBooks is a new edition by Screen2.0 for digital natives. It is for fast consumption. It contains many images. It is an e-book, not a book adaption. It is made to be loved. With this book you shots will never be the same.
Simply Beautiful:
106 pages, and 90 illustrations & images
Simply Powerful:
35 real-world tricks
Simply Brilliant:
50 inspiring examples
Made for the iPad. Made for ambitous RX100 users. Made to be loved. Made for you.
Here is what others are saying:
SonyAlphaRumors.com: "There is a new Sony RX100 E-Book ("Sony RX100 Power User Guide") containing 35 real-world pro tricks and 50 sample images is finally available on Apple's "iPad App Store". Contrary to the other e-books about this camera this e-book is not a print-like adaption but has been created specifically for this medium, with a strong focus on good design practice. All graphics and diagrams have been optimized for the iPad."
Barney Greenwood: "Love it. Please do RX1 and A99 NOW!! I think you can charge £10 for stills and £10 for video. Can't wait."
BookChart.info: "Books by Eckehart Röscheisen have appeared on charts in Australia, Canada, France, Germany, UK, USA." Currently number 20 in Top iTunes Charts for "Arts & Entertainment"!
For iBooks and PDF readers
Your Comments