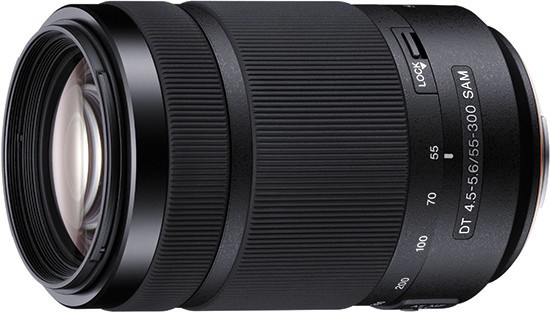 Sony today introduced a new telephoto zoom lens for its A-mount DSLRs and SLTs with APS-C sized sensors. With a 35mm equivalent focal range of 83-450mm, the Sony DT55-300mm f4.5-5.6 SAM features a Smooth Auto-focus Motor (hence the SAM abbreviation in the product name), which enables fast, quiet and smooth focusing even during video capture. The optical formula comprises 12 elements in 9 groups, including one ED (extra-low-dispersion) lens element, and an iris diaphragm with seven rounded aperture blades. Weighing in at 460 grams, the Sony DT55-300mm f/4.5-5.6 SAM lens has a close-focus point of 1.4 metres, 0.27x maximum magnification and a 62mm filter thread. Shipping with a bayonet-type hood, the Sony DT55-300mm f4.5-5.6 SAM will be available from September 2012 priced at $300.
Sony Press Release
Sony introduces quiet, quick new super-zoom DT55-300mm F4.5-5.6 SAM telephoto zoom lens for A-mount cameras
25 July 2012
From flattering portraits to wildlife and extreme sports: every subject's covered with the new SAL55300 telephoto zoom lens from Sony.
Optimised for all "Alpha" A-mount camera models with APS-C sensors, the compact, stylishly designed interchangeable lens brings the action closer at a compelling price for every photographer.
A versatile 5.5x magnification range covers focal lengths from 55mm to 300mm. At maximum zoom, this represents 450mm super-telephoto (as 35mm equivalent): plenty of power to capture the grace of animals in the wild or nail-biting track-side action.
The whisper-quiet Smooth Autofocus Motor (SAM) makes an ideal partner for the high-speed AF tracking capabilities of cameras with Translucent Mirror Technology. Even when your subject's moving swiftly, you'll be rewarded by frame after frame of crisply-focused images and Full HD video.
The advanced optical design of the SAL55300 gets the best from the high pixel counts of today's high-resolution image sensors. Featured on premium Sony G Lens models, an ED (Extra-Low Dispersion) glass element reduces colour aberrations for improved image quality at medium to long focal lengths. An impressive MTF (Modulation Transfer Function) performance assures flawless resolution of the finest details.
The new SAL55300A-mount interchangeable lens for A-mount cameras by Sony is available from mid-September 2012.
Your Comments