Sony Europe Announces 4GB Memory Stick PRO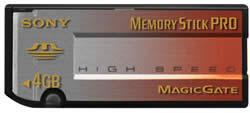 Sony Europe Press Release
Berlin, 26th January - Sony Recording Media and Energy Europe today announced at PaperWorld 2005 a 4GB Memory Stick PRO (High Speed) media along with the introduction of its Memory Stick Data Rescue Service, providing additional peace of mind for those worried about losing personal information.
With increased durability, higher data transfer speeds, and compatibility with a wide selection of Memory Stick PRO devices*1 currently available, the new 4GB Memory Stick PRO (High Speed) media will be a valuable tool for users needing to store and transfer large quantities of digital content, including high-resolution digital photos and video clips.
The 4GB Memory Stick PRO (High Speed) supports faster read and write speeds (vs. Memory Stick) of up to 80Mbps (10MB/s)*2 for quick copying of files to and from computers. Also this media has a format specified minimum write speed of 15 Mbps to ensure high-quality, real-time recording of moving images. It also features increased durability with a standard operating temperature range of 25ºC ~ +85ºC.
Sony's Memory Stick Data Rescue Service is a new service introduced by Sony to retrieve lost information in the event of accidental deletion. The lost data*3 on any Sony branded Memory Stick media will be restored through the download of a free trial software from Sony's Customer Support Portal (http://www.sonydigital-link.com/memstick/datarescue.asp?l=en).
"The increased 4GB storage capacity combined with the Memory Stick Data Rescue Service means that our customers not only have access to a highly portable and robust storage device, but also have the peace of mind should anything happen to it," commented Olivier Schwartz, European Marketing Manager in charge of the Memory Stick business.
Sony's 4GB Memory Stick PRO (High Speed) will be available across Europe in March, and Memory Stick Data Rescue Service is available now for all products in the Memory Stick line-up.
*1 Proper operation with all devices is not guaranteed. Memory Stick compatibility is dependent upon individual host hardware specifications.
*2 Speed may vary according to usage and equipment.
*3 This service does not apply to copyright protected content. Recovery of all data is not guaranteed by the service.
Share this article