Sony Launches New Accessories for HDR-AS15 Action Cam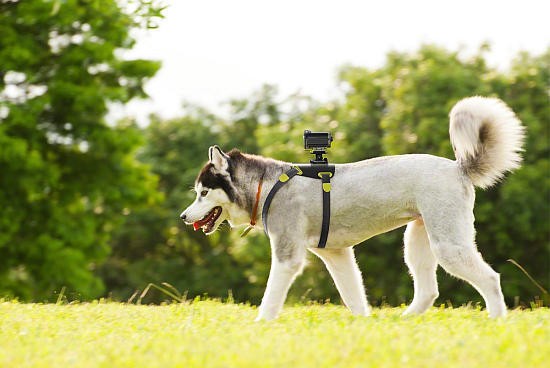 Sony has launched a new range of accessories for its HDR-AS15 Action Cam. These include the AKA-WM1 wrist mount strap, the AKA-SM1 surfboard mount, the AKA-FL1 float - which prevents the Action Cam from plummeting into the depths if you drop the camera while swimming -, the ADP-BH1 ball head, the AKA-SF1 skeleton frame - which is claimed to be ideal for secure tripod mounting - and the AKA-DM1 dog harness. There's also a new firmware update that powers up Action Cam with extra features and a new High Frame Rate mode. The new range of sports-focused mounting accessories and firmware update for the HDR-AS15 Action Cam Full HD video camera are available from June.
Sony Press Release
Gear up for more excitement with new add-ons for Action Cam
Adrenalin-focused accessories for HDR-AS15 Action Cam
Wrist Mount Strap: for thrills at your fingertips
Surfboard Mount: bond with your board and catch the next wave
High-Visibility Float: don't get separated from Action Cam when you're surfing or kayaking
3-axis Ball Head: capture the action perfectly from any angle
Skeleton Frame: for easy, no-fuss tripod mounting
Dog Harness: for a pet's eye view of the world
New firmware update adds super-smooth High Frame Rate recording, underwater shooting mode and 'beep' record confirmation
Make your next date with the great outdoors even more thrilling. There's a fresh range of 'go-anywhere' accessories by Sony for Action Cam – the video camera that's made for adventure.
Six new extras offer loads of mounting options for Action Cam, wherever you're heading. You'll enjoy even more ways to grab nail-biting Full HD footage, whether you're biking, surfing, kayaking or tackling that scary crevasse.
The AKA-WM1 Wrist Mount Strap takes hands-free shooting to another level. Fitting snugly onto your wrist with the supplied strap, the mount features a rotating base that lets you click Action Cam to any of 16 angled shooting positions. Perfect for sailboarding, mountain biking or snowboarding, it's a great way to capture first-person excitement when you're in the thick of it.
The AKA-SM1 Surfboard Mount bonds securely to the curved contours of your board with four adhesive flaps. For extra security there's a leash cord to stop Action Cam getting away when that big wave hits. The handy tilt mechanism lets you angle the camera perfectly for dramatic views – whether you're hanging ten or wiping out.
The AKA-FL1 Float stops Action Cam plummeting into the depths if you drop the camera while swimming, rafting, kite-surfing or kayaking. The float's high-viz yellow colour makes it easy to spot. Use for handheld shooting with Action Cam inside its waterproof case, or team it with other accessories like the AKA-SM1 Surfboard Mount or AKA-WM1 Wrist Mount.
The ADP-BH1 Ball Head tilts, swivels and rotates smoothly around three axes, giving you ultimate flexibility in positioning Action Cam at just the right angle. Combine with the camera's supplied waterproof case and adhesive mount – and you're good to go.
The AKA-SF1 Skeleton Frame is ideal for secure tripod mounting without needing the camera's supplied waterproof case. Slip Action Cam into the tough, light frame then you're all ready to mount Action Camera on any standard photo tripod with a screw-thread mounting. You'll also enjoy unobstructed access to the camera's USB, HDMI, and stereo mini jack ports while it's mounted.
The AKA-DM1 Dog Harness gives your Action Cam videos some real pooch power. Sized for medium to larger dogs, the lightweight adjustable harness fits comfortably yet securely onto your pet's back. Then you're both ready for that run round the park or exhausting game of fetch.
New firmware update for HDR-AS15 Action Cam
There's also a new firmware update that powers up Action Cam with extra features and an exciting new High Frame Rate mode.
Available as a free download for registered Action Cam owners at http://www.sony.co.uk/support/en/product/HDR-AS15/updates, the update adds Full HD video recording at 60 progressive frames per second (1080/60p). It's perfect for capturing silk-smooth footage of fast-moving outdoor action, with every detail seen clearly without blur or judder.
Also featured in the update, a new 'Underwater' mode adjusts White Balance for natural-looking colours when you're shooting beneath the waves.
There's now a choice of three different 'beep' modes to give positive audible feedback of record stop/start and other functions. Cycle through 'beep on', 'beep off' or only to confirm recording and shutter release. It gives valuable reassurance that Action Cam is rolling for that BMX stunt when the camera's mounted out of sight on your helmet.
Available from the end of June, connection between Action Cam and your smartphone is simplified with seamless switching between remote control and file transfer modes.
The new range of sports-focused mounting accessories for the HDR-AS15 Action Cam Full HD video camera are available from June 2013
Your Comments