Sony Unveils Seven New Cyber-shot Compacts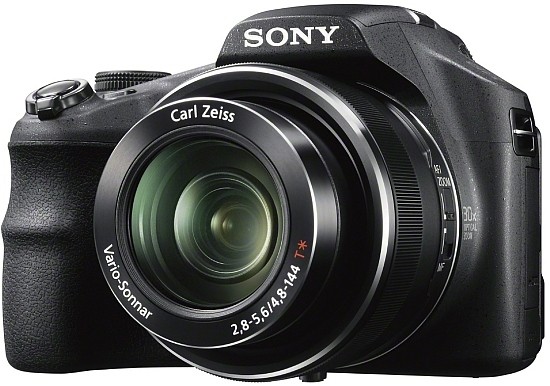 Sony has introduced seven new digital compact cameras, including the Sony Cyber-shot DSC-HX20V, HX10V, WX100, HX200V, TX20, W690 and H90. The first four models boast Sony's new 18.2-megapixel Exmor R CMOS sensor, while the other three come equipped with 16-megapixel imagers. The flagship of the new Cyber-shot range is the Sony Cyber-shot DSC-HX20V, which sports a newly designed, compact Advanced Aspherical (AA) lens with 20x optical zoom and fast auto focus, as well as a built-in GPS module. Other cameras with "AA" lenses include the Sony Cyber-shot DSC-WX100, which is billed as the world's smallest camera with 10x optical zoom, and the Sony Cyber-shot DSC-W690, another 10x zoom model. The longest (30x) zoom is found on the Sony Cyber-shot DSC-HX200V (pictured), which additionally features high-speed AF, 3D shooting and Full HD 50p video. The TX series is joined by the 4x zoom Sony Cyber-shot DSC-TX20, an ultra-slim and stylish yet tough little shooter that is dust- and freezeproof, as well as waterproof down to a depth of 5m and shockproof to 1.5m. Finally, the HX10V and H90 both sport 16x zoom lenses, with the main differences being the slightly different pixel count and a higher-resolution screen and GPS module in the HX10V.
In addition to these seven models, which will be available worldwide, Sony has also announced three apparently US-only models, the Cyber-shot DSC-TX66 (an ultra-thin but not ruggedised compact with a 18-megapixel sensor, 3.3" OLED touchscreen and 5x optical zoom), the Cyber-shot DSC-WX150 with 18 megapixels and 10x optical zoom, and the Cyber-shot DSC-HX30V, which is almost identical to the HX20V except that it additionally features Wi-Fi connectivity.
Update: The Sony Cyber-shot DSC-WX150 is also going on sale in the UK.
Sony Europe Press Release
Zoom in closer with this season's new Cyber-shot™ cameras from Sony
28 February 2012
HX20V, WX100 and W690 feature advanced AA lens for powerful zoom in super-slim body
  * DSC-HX20V: compact, powerful and perfect for travel with 20x optical zoom and effective 18.2 megapixel Exmor R® CMOS Sensor
  * DSC-WX100: world's smallest and lightest camera*1 with 10x optical zoom and effective 18.2 megapixel Exmor R® CMOS Sensor
  * DSC-HX200V: ultra 30x optical zoom with effective 18.2 megapixel Exmor R® CMOS Sensor and manual controls
  * DSC-TX20: water/freeze/dust/shock-proof with effective 16.2 megapixel Exmor R® CMOS Sensor
  * DSC-W690: slim and easy to use with 10x optical zoom and 16.1 megapixels
  * DSC-HX10V: 16x optical zoom and effective 18.2 megapixel Exmor R® CMOS Sensor
  * DSC-H90: 16x optical zoom and effective 16.1 megapixels
Big, bold close-ups don't have to mean carrying a big, bulky camera. With this season's latest Cyber-shot™ digital cameras from Sony, you can enjoy super-zoom performance and detail-packed images with less to carry.
Clearer, steadier high-zoom images from a compact camera
Making its debut in the Cyber-shot™ HX20, WX100 and W690, an Advanced Aspherical (AA) lens boosts zoom range while allowing a far smaller lens body. The precision optical design adds an extremely thin lens element, increasing maximum magnification without compromising image quality or optical performance. With the WX100, this results in an impressive 10x optical zoom range in a compact camera that's just 17.5mm thin at its slimmest part.
By Pixel Super Resolution technology (except W690, H90) doubles optical zoom range without sacrificing image quality or resolution. You'll enjoy detail-packed close-ups – with up to 60x Clear Image Zoom on the HX200V – without the artificial blockiness that mars conventional digital zoom.
Complementing the new cameras' exceptional zoom performance, Optical SteadyShot now offers enhanced image stabilisation when zoomed-in, both for still and movies. A refined gyro is teamed with optimised processing, adding the right amount of shake compensation for each scene. You'll enjoy clearer, blur-free stills and videos, even at long focal lengths where camera shake is greatest.
Powerful features to widen creative shooting options
Extra High Sensitivity technology*2 (except W690, H90) expands your photo opportunities, especially in dimly-lit conditions. Maximum sensitivity is now boosted to ISO 12800, giving more opportunities for spontaneous handheld shooting without flash. Thanks to the Exmor R™ CMOS Sensor and high-speed BIONZ processor, noise levels are significantly reduced compared with previous Cyber-shot™ models*3. You'll see the difference with crisper low-light shots, from atmospheric portraits to interiors.
Spontaneous shooting options are widened further with high-speed autofocus that locks onto your subject in as little as 0.13 seconds in daylight (except W690, H90 and TX20). AF performance is also significantly quicker at 0.20 seconds in dim conditions (for WX100 at 3EV; actual AF speed depends on model and shooting conditions). You'll be able grab even more of those special moments when other cameras struggle to focus accurately.
Superior Auto Mode (except W690, H90) takes the guesswork out of achieving professional results in virtually any situation. Detecting the current scene and shooting conditions, Cyber-shot™ automatically adjusts exposure and other camera settings for superb images with low noise and high dynamic range.
DSC-HX20V
The new Cyber-shot™ line-up is headed by the compact, powerful HX20V featuring the AA lens and packed with advanced shooting features in a stylish, easy to carry body, making it an ideal travel partner. The highly-efficient Exmor R™ CMOS sensor with 18.2 effective megapixels is teamed with the latest BIONZ processor that assures flawless, low-noise images, even in low light. By processing each area of an image to achieve the optimal balance between noise and details, the advanced noise reduction technology achieves a natural look with reduced noise. Ideal for action-packed scenes, fleeting portraits and close-ups, speedy shooting responses and quick autofocus (approximately 0.13 second in daylight and 0.21seconds in low-light at 3 EV) help you capture more split-second moments.
Other HX20V highlights include 20x optical zoom, AVCHD Full HD 50p video recording for super-smooth footage, artistic Picture Effect modes, 3D shooting and GPS. Advanced manual functions give exceptional creative control over producing beautiful Full HD video and stills.
Also available, the Cyber-shot™ HX10V is an even more accessibly-priced choice for versatile shooting with 18.2 effective megapixels and a 16x optical zoom range.
DSC-WX100
Just 17.5mm slim (at thinnest point), the beautifully styled Cyber-shot™ WX100 is the world's smallest, lightest camera*1 to offer a powerful 10x optical zoom range. It's an ideal travel partner, covering a huge range of shooting possibilities from wide-angle shots to detail-packed close-ups.
DSC-HX200V
With an ultra-powerful 30x optical zoom range and easy DSLR-style manual controls, the HX200V offers big-camera performance with the portability of a compact. It's a showcase for latest Cyber-shot™ technologies like Full HD 50p video, Superior Auto, high-speed autofocus, Picture Effect, 3D shooting and quick AF speed (approximately 0.13 seconds in daylight and 0.21 seconds in low-light at 3 EV).
DSC-TX20
Ultra-slim and stylish, the TX20 is your perfect partner for everyday adventures, from skiing to trips to the beach or pool. Resisting water (to 5m), dust, freeze and drops from a height of 1.5m, it's packed with advanced Cyber-shot™ technologies in a beautifully slim body.
DSC-W690
Slim and refreshingly easy to use, the W690 brings distant subjects closer with its impressive 10x optical zoom lens. Enhanced Optical SteadyShot now offers improved image stabilisation that's effective with both stills and movies. 360 Sweep Panorama lets you grab exciting all-round images at the touch of a button, while iAUTO takes care of adjusting camera settings for great results without fuss.
DSC-H90
With a powerful 16x optical zoom range and 24mm wide angle, the Cyber-shot™ H90 handles a wide range of shooting situations, from landscapes to frame-filling close-ups. Your creative options are broadened further with enhanced Optical SteadyShot, iAUTO, 360 Sweep Panorama for exciting all-round views and Picture Effect for impressive in-camera image treatments.
Shoot faster, transfer quicker with the new Experience UHS-I 30MB/s & Expert UHS-I 94MB/s SDHC Cards
The rugged new range of SDHC cards by Sony are ideal for sustained burst shooting, Full HD video and 3D imaging. Resistant to water, x-rays, sweltering summer heat and freezing conditions, they're perfect partners for the most gruelling photo or video assignment.
The range-topping Expert series can now achieve blazing transfer speeds up to 94MB/s*4 with the growing range of compatible UHS-I hardware, including the SLT-A77 Translucent Mirror camera. Also available for latest Cyber-shot™ models, the mid-range Experience series supports data rates up to 30MB/s*4. Both series come with free download of File Rescue software that allows recovery of accidentally-deleted photo/video files, even in 3D and Full HD.
Constructed with 'SoRPlas' Sony Recycled Plastic
The new Cyber-shot™ HX20V is partially constructed using 'SoRPlas' (Sony Recycled Plastic), a flame-retardant polycarbonate plastic that contains 99% recycled materials. SoRPlas exhibits excellent strength plus world-leading heat resistance and durability.
The new Cyber-shot™ HX20V, HX200VE, and H90 digital cameras by Sony are available in Europe from end April 2012. The Cyber-shot™ TX20 and W690 are available from mid-May 2012.
*1 WX100 is the world's thinnest camera among compact digital cameras with 10x optical zoom. WX100 is also the world's smallest and lightest in this class. Based on Sony data, as of announcement date. 17.5 mm (excluding lens) at thinnest part and 21.6 mm at thickest part.
*2 Realised by combining 'By Pixel Super Resolution' with pixel interpolation and superimposing technology. Effects and image details may not reproduce well depending on subject and/or shooting conditions.
*3 Simulated results when compared with Cyber-shot models that employ conventional noise reduction. Based on Sony testing.
*4 Maximum read speed with UHS-I interface.
Image Gallery
Click on a thumbnail to see the full version.
Your Comments