Speakers and Training at Focus on Imaging 2007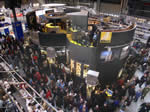 DayMen International Ltd has an impressive line-up of guest speakers at Focus on Imaging this year, so don't miss your chance to learn from some of the UK's top professional photographers. Speakers include Colin Prior, Joe Cornish, David Ward, Eddie Ephraums, Bjorn Thomassen Tom Mackie and Geoff Waugh. In addition, as part of Lowepro's 40th Anniversary celebrations this year, Lowepro's chairman, Uwe Mummenhoff, will be adding to this impressive line up – talking about the company's relationship with conservation group Polar Bears International - and sharing his experiences from a recent trip to Churchill in Canada to photograph the bears in their natural habitat.
There will also be free training for visitors to Focus given by Apple Authorised Training Centres on Apple's new Aperture 1.5, the first all-in-one post-production tool for serious digital photographers. Visitors will be able to will learn how to easily import, manage, edit, catalogue, organise, adjust, publish, export and archive their images more effectively and efficiently than ever before.
Programme
Sunday 25 February
11.30am Bjorn Thomassen
1.30pm Uwe Mummenhoff
3.00pm Bjorn Thomassen
Monday 26 February
11.30am Joe Cornish, David Ward & Eddie Ephraums – including sales and book signing for their latest publication – Working The Light
1.30pm Uwe Mummenhoff
3.00pm Colin Prior
Tuesday 27 February
11.00am Colin Prior
1.30pm Uwe Mummenhoff
2.30pm David Ward/Light & Land
Wednesday 28 February
11.00am Tom Mackie
2.00pm Geoff Waugh
All presentations will last approximately 20-30 minutes.  Schedule subject to change.
For further information please call Kerry Banner, Kate Screen or James Bennett at Target Public Relations on 01242 633 100 or email firstname.surname@targetgroup.co.uk
Your Comments