SpyderPRINT & SpyderSTUDIO Now Available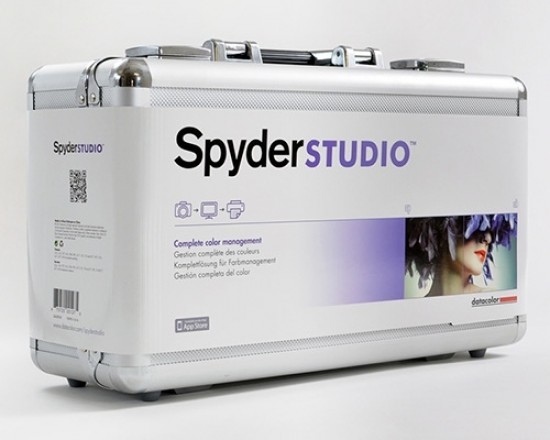 Colour Confidence today announced the launch and availability of the new SpyderPRINT (£299.99) and SpyderSTUDIO (£449.99). The first product is a printer calibration solution that allows owners of advanced inkjet printers to create gallery quality prints in colour and black and white. SpyderSTUDIO is a product package that includes SpyderPRINT, Spyder4Elite and the SpyderCube.
Press Release
Color Confidence announce launch and availability of DataColor SpyderPRINT™ and SpyderSTUDIO™
First UK showing of SpyderPRINT™ and SpyderSTUDIO™ along with full Spyder4 range on Color Confidence stand C11 at Focus on Imaging
Birmingham, UK, 13 February 2012 – Color Confidence, Europe's leading value added distributor into the digital imaging markets, has today announced the launch and availability of the new SpyderPRINT™ and SpyderSTUDIO™. Following the recent launch of the Spdyer4Elite, Spyder4Pro and Spyder4Express, these new launches complete the arrival of the Spyder4 range.  The SpyderPRINT™ (printer profiling) and the SpyderSTUDIO™ (monitor and printer profiling) combine ease of use and professional functionality to offer photographers a simple way to achieve accurate colour. The range is available immediately from photographic and consumer electronics resellers across the country, as well as online at www.colorconfidence.com.
Visitors to Focus on Imaging, at Birmingham's NEC, 4-7th March will have the first opportunity to see these products live on the Color Confidence stand, C11.
One of the most common issues photographers have is that their print doesn't match what they see on screen.  Both display and printer calibration are essential to provide a base for superior print matching. This greatly reduces wasted paper and ink with your printed output.
It starts with the screen - as no two devices display the exact same colour, precise calibration is imperative in order to ensure consistent, true colour representation. In addition, even calibrated monitors, TVs and tablets will gradually decrease in accuracy, requiring colour calibration every one to two months in order to display sharp, accurate colours, shadows and highlights.
Once your screen is accurate, ensuring that the paper you use it profiled so that the printer uses the correct settings for optimum results is essential.
"Monitor calibration is just the start of ensuring accurate colour; it needs to be a fully managed approach from capture of an image all the way through to final print. The SpyderPRINT and SpyderSTUDIO provide the tools that photographers require to get accurate colour and outstanding images." Commented Geoffrey Clements, Managing Director, Color Confidence. "The launch of the Spyder4 range has seen significant interest from consumers. The new SpyderPRINT and SpyderSTUDIO products continue in the same path of providing users with enhanced functionality and features whilst retaining the ease of use that DataColor is renowned for."
SpyderSTUDIO™
SpyderSTUDIO™ is a complete colour calibration solution designed for photographers who need the highest level of colour control in the studio and flexibility in post-production. It provides everything you need from capture, to edit, to print for the utmost in accuracy and colour management. Consider this your digital darkroom that brings you easy-to-use, full-featured, photographer-oriented solutions for your digital workflow. With solutions from RAW Camera calibration to quick and easy custom ICC printer profiles, you'll get colours you can rely on.
SpyderSTUDIO includes:
SpyderPRINT- Printer profiling
Spyder4Elite – Professional monitor profiling
Spyder Cube – Camera RAW caibration
SpyderPRINT™
SpyderPRINT™ is the full-featured solution that photographers choose to manage colour in their print output. By selecting any combination of printer, ink and media in the software, SpyderPRINT provides a full assortment of tools to let you push the limits of advanced inkjets to create gallery quality prints in colour and black and white. SpyderPRINT gives you full control of your printer output with the ability to create any number of custom profiles to ICC Standards.
Pricing and Availability
SpyderPRINT and SpyderSTUDIO are available at photographic and consumer electronics retailers nationwide or online at www.colorconfidence.com. The SpyderPRINT is priced at £299.99, and the SpyderSTUDIO at £449.99. All prices are inclusive of VAT.
Both SpyderPRINT and SpyderSTUDIO along with the remainder of the Spyder4 range are available immediately, although supply is likely to be constrained during February due to heavy demand for the new products.
About Color Confidence
Color Confidence are Europe's leading 'value added' distributor of products and services in the digital imaging markets. The company, which now includes Cherlyn Colour and grafipress in its group, works with the world's leading vendors of digital imaging solutions and offers the latest products and services backed by unrivalled technical know-how and industry expertise. Color Confidence services a diverse customer base, from imaging enthusiasts and creative professionals to multinational enterprises and government departments through its extensive dealer network and direct from www.ColorConfidence.com
Your Comments