Tamás Dezs? Wins 2011 Center Awards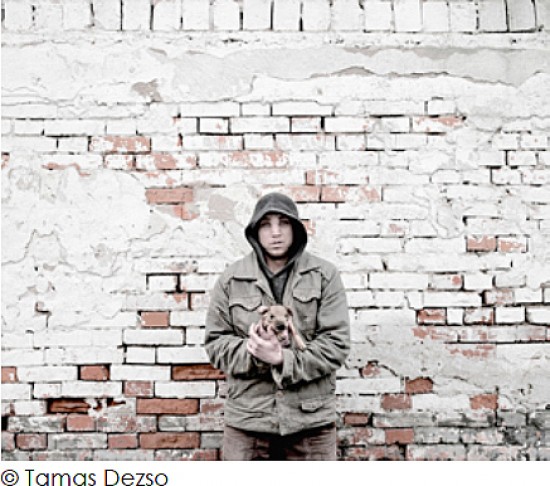 This year's judges have chosen Hungarian photographer Tamás Dezs? as the overall winner of The Center Awards. The awards, now in their 16th year, offer support and exposure via a photographic career hallmark, an exhibition at the New Mexico Museum of Art, $5,000 cash award, publication in Fraction magazine, tuition to the Santa Fe Workshops, printing services from Singer Editions and more. Tamás' project, "Here, Anywhere", which documents a slowly changing country in the heart of Europe, has convinced the jury with its clear concept and unique style. For more work by the winning photographer, visit his website by following the link below.
Website: Photographs by Tamás Dezs?
Center Press Release
PROJECT COMPETITION & PROJECT LAUNCH WINNERS ANNOUNCED
PROJECT COMPETITION
The 16th annual Project Competition recognizes gifted photographers working on documentary projects or fine-art series. This year, the competition attracted 719 entries from 31 countries including Brazil, India, Israel, Kazakhstan, Switzerland and Thailand, making for a highly competitive international award. Many esteemed photographers were recognized early in their careers by the Center Awards, including: Julie Blackmon, Dave Anderson, Laurent Millet, Lori Grinker, Maggie Taylor and many others. A majority of the winners, as well as many of the Juror's Choice and Honorable Mention, go on to receive book publishing contracts for their outstanding work.
The 2011 prize package offers a hallmark in a photographer's career, a two-person exhibition at the New Mexico Museum of Art. The Project Competition and Project Launch winning work will be on view at the NM Museum of Art, May 20 – July 10, 2011 during Center's flagship portfolio review event, Review Santa Fe where many renowned curators, editors, publishers and collectors will be in attendance.
2011 JURORS
Simon Baker, Curator of International Art and Photography, Tate, U.K.
Alexa Becker, Acquisitions Editor, Kehrer Verlag publishers, Germany
Christina Cahill, Deputy Director, Editorial Reportage by Getty Images
The Project Competition jurors in their video interview stated:
It's a really great moment for photography. There are some amazing photobooks being made and exhibitions to look at photography more slowly and carefully. One of the most obvious and effective responses to the onrush of media saturation is to find a space or context to slow down… I want something to slow me down, and something to make me feel as if I need to see it again, and again. The (Project Competition) winners, we wanted to look at again and again because they will bear and reward slow, sustained looking.
1st PLACE
Tamas Dezso, Hungary; Here, Anywhere
JURORS' CHOICE (3)
Aaron Blum, USA; Born and Raised; Reflections of a World Set Aside
Scott Chandler, Canada; Fordlandia
Emile Hyperion Dubuisson. USA; Siberia, The Far North
HONORABLE MENTION (10)
Jenn Ackerman & Tim Gruber, Baldomero Fernandez, Ayala Gazit, Gleb Kosorukov, Douglas Ljungkvist, Brad Moore, Susana Raab, Chiara Tocci, Daniel Traub, and Timotheus Tomicek.
PROJECT LAUNCH
The Project Launch Award, now in its second year, was designed to support a documentary or fine-art
series work-in-progress. The financial award is to help a photographer continue or complete their work
and help to bring it into the public eye.
JUROR
Dewi Lewis, Publisher, Dewi Lewis Publishing, U.K.
Selecting a final winner was a difficult and a narrow decision. All three projects have considerable strengths which could have merited the award. I would hope that the opportunity offered through award will be of help in furthering their completion.
1st PLACE
Michele Palazzi & Alessandro Penso, Italy; Migrant Workers Journey
HONORABLE MENTION
Angus Fraser, U.K.; Shrine and Sebastian Liste, Spain; Bahia
Center prize packages are designed to offer support, exposure and opportunity via $5,000 for Project Competition and $3,000 cash award to the Project Launch winners; as well as an online feature in Fraction magazine; attendance at the portfolio review event Review Santa Fe where winners can meet with publishers, curators, editors and others for career opportunity; an educational opportunity at the Santa Fe Workshops; a Blurb gift certificate and finally, an exhibition at the New Mexico Museum of Art.
ABOUT CENTER
Center is a 501(c)3 nonprofit organization that honors, supports and provides opportunity to gifted and committed photographers. For additional information about Center, the awards, and to view the winning work, go to VisitCenter.org.
---
Photo: Tamás Dezs?, from the project Here, Anywhere
Your Comments