Tamron 'My Travel Exhibit' Photo Contest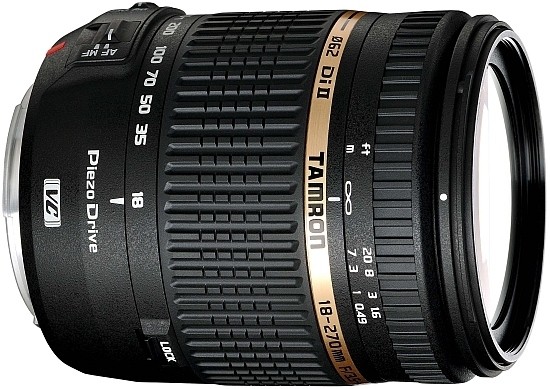 Tamron USA has launched its third My Photo Exhibit annual photo contest. Offered exclusively to Tamron USA lens users, the My Photo Exhibit competition gives one lucky winner the opportunity to win one of seven Tamron lenses (among them the Tamron 18-270mm f/3.5-6.3 Di II VC PZD, pictured). Entrants will create a 3D virtual exhibit showcasing 8-14 of their best images in a travel theme on Tamron's unique photo sharing exhibit site, MyPhotoExhibits.com. The deadline for submissions is 30 September 2013.
Website: My Photo Exhibit
Tamron Press Release
TAMRON USA ANNOUNCES 3RD ANNUAL "MY TRAVEL EXHIBIT" PHOTO CONTEST FOR TAMRON USERS

Deadline for Tamron lens users residing in the USA to create their exhibit entry on http://tamron.myphotoexhibits.com/contest for a chance to win a Tamron lens is September 30, 2013

Commack, N.Y., April 1, 2013 - Tamron USA announces its 3rd annual "My Travel Exhibit" photo contest which is offered exclusively to Tamron USA lens users. Entrants will create a 3D virtual exhibit showcasing 8-14 of their best images in a travel theme on Tamron's unique photo sharing exhibit site, MyPhotoExhibits.com. Professional photographer Kevin Gilligan (www.photosbykag.com) will judge the contest and choose the winning exhibit based on overall image quality and originality of the collection. The winning exhibit will be featured on the Tamron USA website and Tamron eNewsletter. The winner will also receive his/her choice of one of seven Tamron lenses:
18-270mm Di II VC PZD 15X all-in-one zoom lens (model B008, $449 value) 
18-200mm Di III VC for Sony E-Mount (model B011, $739 value)
SP 17-50mm F/2.8 Di II VC (model B005, $649 value) 
SP 24-70mm F/2.8 Di VC USD (model A007, $1299 value) 
SP 10-24mm Di II (model B001, $499)
SP 70-300mm Di VC USD (model A005, $449)
SP 90mm F/2.8 Di VC USD 1:1 Macro (model F004, $749)
The contest officially launches on April 1, 2013. Entrants without a computer or Internet access may send in entries of 8-14 images up to 8.5x11 by mail. The deadline for submissions is September 30, 2013; complete contest rules are available at myphotoexhibits.com/contest.

About The Judge:
Kevin Gilligan's visual perspective grew out of a love of the ocean, surfing and swimming. Growing up on New York's Long Island Sound and now living in L.A.'s South Bay, he has a keen appreciation for beautiful ocean, beach, and water landscapes. Gilligan's interests are eclectic and as a result his photographic subjects range from art, portraits and sports to martial arts and boxing.
Kevin Gilligan's images have been published in magazines and newspapers across the United States. In 2012, the Laguna Art Museum displayed and published his images in a catalog featuring the works of painter and sculptor Victor Hugo Zayas. He photographed the entire process used by Mr. Zayas to transform guns into sculptures. The guns, acquired via LAPD's gun buy-back program, were transformed into powerful works of art by Mr. Zayas. His sculptures garnered world-wide media attention. Gilligan is a member of Tamron's Professional Photographer Galleries and has been featured in several Tamron news articles, including a feature article on his images of Zayas' gun project. Kevin is an experienced travel photographer and always recommends researching the location before embarking on your journey, particularly when traveling to a foreign country. "Always learn about the customs, and most importantly, learn at least a few key words from the country's native language." Gilligan's' work can be seen on his website at www.photosbykag.com and you can follow him on Facebook and Twitter @photosbykag.

About MyPhotoExhibits.com
Unlike traditional static online galleries, Tamron's SoHo-styled MyPhotoExhibits (MPE) interface, available at

http://myphotoexhibits.com, allows users to create customizable gallery exhibits with a vibrant interactive experience. Photographers simply set up a user avatar and bio, upload their favorite high-resolution images and create their personalized on-line exhibit space. After organizing the exhibit and captioning the photographs, users can put finishing design touches on their exhibit. By choosing wall and floor textures and colors, frames, furniture, and lighting, photographers are invited to extend their creativity and show their work in complimentary settings. It's easy to go back into the MPE interface at any time to add more photos, tweak presentation specs, or create an unlimited number of new exhibits that feature travel pictorials, special events, projects, and more.

Spreading the word about these custom exhibits is another way in which MyPhotoExhibits stands out from other online galleries. Once an exhibit is ready to "open" it's easy to share it with friends. Users simply send invitations from the website or the iPhone & iPad app to Facebook or other social media platforms or by email. Visitors can sign the photographer's guestbook, choose favorite exhibits and follow exhibiting photographers.

Companion iPhone & iPad App On-The-Go Viewing and Sharing
An app for Android, iPhone & iPad for photography enthusiasts on-the-go will further enhance MyPhotoExhibits convenience and user-friendliness. The free apps, available in the iTunes app store and at Google Play, and all of which can be accessed from http://tamron-usa.com/lenses/apps_mpe.asp, offer easy mobile access to MyPhotoExhibits. Through their iPhone, Android phone or iPad, users can browse through all available MPE exhibits, view their own exhibits, check out other photographers and share exhibits by sending out invites to friends.
About Tamron
Tamron is a leading manufacturer of photographic lenses. Among its many optical and mechanical innovations since the founding of the company in 1950, Tamron's development of mass-produced hybrid Aspherical elements paved the way for today's compact high power all-in-one lenses when, in 1992, this technology was incorporated into the ground-breaking 28-200mm. Tamron continues to lead in this category of lenses with the award-winning 18-270mm Di II VC PZD - the world's smallest and lightest 15X zoom lens featuring Tamron's proprietary VC (Vibration Compensation) system for blur-free hand-held shooting of photos in low light and at telephoto settings and PZD (Piezo Drive) autofocus system for fast and quiet AF operation. Tamron has garnered international acclaim for its extensive line-up of professional and consumer lenses.
Your Comments