Tamron "My Travel Exhibit" Photo Contest Winner Announced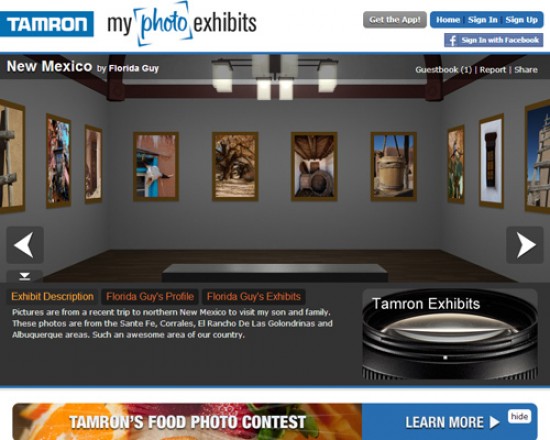 Tamron USA has announced the winner of the Tamron USA My Travel Exhibit User Photo Contest. Professional photographer Ian Plant selected "New Mexico" by Terry Mann as the winning exhibit, which featured images taken with the Tamron AF 18-270mm F3.5-6.3 Di II VC PZD lens. The winning exhibit can be viewed at the website below.
Website: Tamron My Photo Exhibits
Tamron Press Release
TAMRON USA ANNOUNCES "MY TRAVEL EXHIBIT" 2012 USER PHOTO CONTEST WINNER

"New Mexico" by Terry Mann selected as the winning exhibit by pro photographer Ian Plant

Commack, N.Y., November 8, 2012 - Tamron USA announced the winner of the Tamron USA My Travel Exhibit User Photo Contest. The contest launched in June 1, 2012 and required that Tamron lens users created virtual photo gallery using MyPhotoExhibits.com showcasing at least 8-14 images. The winning exhibit would be based upon overall quality and originality of the collection. Professional photographer Ian Plant selected "New Mexico" by Terry Mann as the winning exhibit which featured images taken with Tamron lenses AF 18-270mm F3.5-6.3 Di II VC PZD. The winning exhibit can be viewed at http://bit.ly/TO4d7B
Terry's approach is what caught Ian's eye. "When judging a photo contest, I always look for photographers who take a "transformative" approach to their subjects, showing objects not just as they appear to everyday observers, but instead showing their hidden side. This portfolio is an excellent study of shape, form, and color, and shows familiar subjects in an unexpected, and at times ironic, way."
The winning exhibit will be featured on the Tamron USA website and Tamron eNewsletter as one of the upcoming featured stories titled, "New Mexico" written by Jenn Gidman. This story will serve as an in-depth understanding of the images featured in the winning exhibit, techniques used and the photographer's inspirations.
About The Judge:
A full-time professional nature photographer, writer, and adventurer, Ian Plant has been photographing our natural world for almost twenty years. He travels the world in order to find rare convergences of light, composition, mood, and moment, looking to transcend mere scenery to produce a compelling view of his nature subjects.

His photographs and instructional articles have appeared in a number of books, calendars, and magazines, including Outdoor Photographer, Popular Photography, Le Monde de la Photo, Nature Photographers Online Magazine, National Parks, Common Ground, Blue Ridge Country, Adirondack Life, Wonderful West Virginia, and Chesapeake Life, among others. Ian also writes a regular blog column for Outdoor Photographer online. Ian has sold images to a wide range of corporate and environmental clients, including Apple, National Geographic Society, REI, Southern Environmental Law Center, National Parks Conservation Association, Chesapeake Bay Foundation, Humane Society, and Tamron.

He is the photographer/author of eight print books, including Chesapeake: Bay of Light (2007), which received critical acclaim from the Washington Post, Washington Times and Baltimore Sun, among others. Ian is also one of the lead authors and designer of The Ultimate Guide to Digital Nature Photography (2009). Most recently, he has authored a number of nature photography instructional eBooks, including Chasing the Light (2010), and several books in the Behind the Lens and Five Landscape Challenges series. Ian is also the author of a number of digital processing video tutorials.

Ian's mission is to educate, inspire, and entertain others in the art of nature photography. To that end, he launched the Dreamscapes photoblog, which is now a collaborative blog involving several other professional photographers.
About MyPhotoExhibits.com
Unlike traditional static online galleries, Tamron's SoHo-styled MyPhotoExhibits (MPE) interface, available at http://myphotoexhibits.com, allows users to create customizable gallery exhibits with a vibrant interactive experience. Photographers simply set up a user avatar and bio, upload their favorite high-resolution images and create their personalized on-line exhibit space. After organizing the exhibit and captioning the photographs, users can put finishing design touches on their exhibit. By choosing wall and floor textures and colors, frames, furniture, and lighting, photographers are invited to extend their creativity and show their work in complimentary settings. It's easy to go back into the MPE interface at any time to add more photos, tweak presentation specs, or create an unlimited number of new exhibits that feature food pictorials, special events, projects, and more.

Companion iPhone & iPad App On-The-Go Viewing and Sharing
An app for iPhone & iPad for photography enthusiasts on-the-go will further enhance MyPhotoExhibits convenience and user-friendliness. The complimentary app, available in the iTunes app store at
http://itunes.apple.com/us/app/tamron-mpe/id420404201?mt=8

About Tamron
Tamron is a leading manufacturer of photographic lenses. Among its many optical and mechanical innovations since the founding of the company in 1950, Tamron's development of mass-produced hybrid Aspherical elements paved the way for today's compact high power all-in-one lenses when, in 1992, this technology was incorporated into the ground-breaking 28-200mm. Tamron continues to lead in this category of lenses with the award-winning 18-270mm Di II VC PZD - the world's smallest and lightest 15X zoom lens featuring Tamron's proprietary VC (Vibration Compensation) system for blur-free hand-held shooting of photos in low light and at telephoto settings and PZD (Piezo Drive) autofocus system for fast and quiet AF operation. Tamron has garnered international acclaim for its extensive line-up of professional and consumer lenses.
Your Comments