Terry O'Neill 2013 Award Winners Announced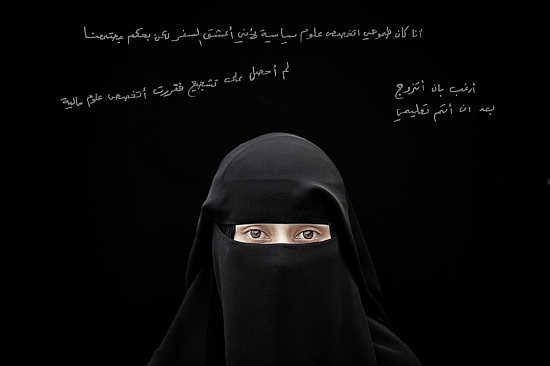 The winners of the Terry O'Neill Award have just been announced. The list of awardees includes Laura Boushnak, Javier Arcenillas and Claudia Moroni. The winner of the mobile device category is Richard Gray. The 2014 Award will launch at the Photography Show at Birmingham NEC: 1 – 5 March 2014.
Press Release
TERRY O'NEILL 2013 AWARD ANNOUNCEMENT
Following the Terry O'Neill Award entry deadline on 30 November the Award judges selected their individual shortlist on-line, then met to whittle down the on-line shortlist of 50 to 10.
Monday 13th January 2014: the overall winner, first and second runners-up, and winner of the mobile device category will be announced at the Award Ceremony at The Strand Gallery in Central London.
The Award 2013 Winners
Laura Boushnak – I Read I Write: Yemen-Access to Education (Portraiture)
Javier Arcenillas - Red Note  (Reportage)
Claudia Moroni - Anima Animus (Portraiture)
Mobile Category: Richard Gray - the person opposite (Portraiture) 
Chair of the judges, Jon Jones, Director of Photography, Sunday Times Magazine says:
The entries to the Award this year were impressive and the diverse themes, quality and maturity of the entries this year made the judging a real pleasure. It is satisfying to see the depth and diversity of talent the Award attracts.
Award judge Lord David Puttnam says: The whole experience was terrific. I love the images we chose and I hope, when published, they have the same impact on others as they had on me.
The 2014 Award will launch at the Photography Show at Birmingham NEC: 1 – 5 March 2014. A Q & A panel of several of the judges will provide valuable insight and guidance to photographers planning to enter for 2014.
Says Terry O'Neill: I am delighted that all our judges for 2013 have committed to continue in this role for 2014; and excited that the 2014 Award will launch at The NEC Photography Show in March.
The Award judges are:
Terry O'Neill
Lord Puttnam, film-maker and advertising industry pioneer
Aidan Sullivan, VP, Getty Images
Nina Berman, Associate Professor Columbia University, New York
Dr Michael Pritchard, Director-General, Royal Photography Society
Bobbi Baker-Burrows, Director of Photography, Time-Life Books
Victoria Broackes, Victoria and Albert Museum (Curator of the David Bowie Exhibition)
Rosie Arnold, Deputy Executive Creative Director, Bartle, Bogle Hegarty Advertising
Giles Maffett, Curator, Proud Gallery
Steve Macleod, Director, Metro Imaging
To keep up-to-date, photographers should log onto www.oneillaward.com and Facebook.com/theterryoneillaward; and follow us on twitter @oneillaward.
Terry O'Neill is famous for photographing the frontline of fame for more than half a century, snapping icons such as Bridget Bardot, Frank Sinatra, The Beatles and The Rolling Stones, and most recently Nelson Mandela and the late Amy Winehouse. 
Photo: Laura Boushnak
Your Comments